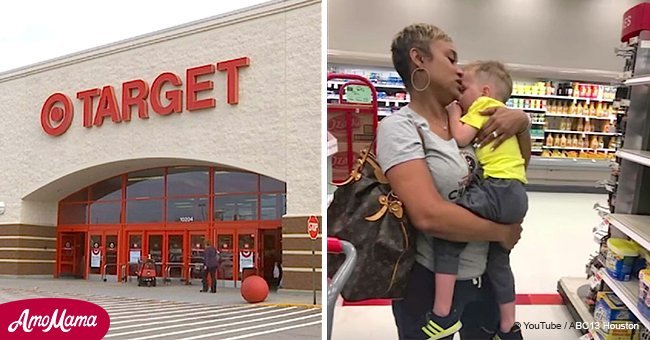 Mom was shopping with 2 kids when they started crying. Then a stranger picked up her son

Even though most parents would agree to say that their children are the best gifts they could ever receive, it is true that raising them is not an easy task.
Rebecca Patterson, a hardworking mother from Pearland, Texas, knows it firsthand as she is the mother of two-year-old and two-month-old children. Earlier this month, she went to Target to buy some groceries and took them with her.
Faith Tap reported that both of them started having simultaneous temper tantrums in the middle of the store. Since she was alone, she had to find a way to calm them down on her own.
Patterson confessed that she started to go into panic mode, which is something usual in mothers who are not accustomed to experiencing such a thing in public places.
To make things worse, most people who walked by did nothing to help but instead gave her bad looks and comments, which made her feel even more frustrated and humiliated.
She decided that the best thing to do at that moment was putting back on the shelves the items she had chosen and leave the store without them. As she was doing so, an unfamiliar voice asked her if she needed some help.
Patterson noticed that it was a fellow shopper who saw the two children having meltdowns alongside their exhausted mom and realized that someone had to do something about it.
The woman picked up one of the boys and calmed him down so Patterson could finish doing her grocery shop. While she was doing it, Patterson took a picture of her and uploaded to her Facebook page.
She told the story and revealed that the name of her 'angel' was Tiffany Guillory. The post quickly became viral and Guillory was interviewed by a news channel.
In it, she pointed out that even though Patterson didn't actually say that she needed help, her face and gestures set clear that she did, which is why Guillory stepped in and became a hero just for one day.
Please fill in your e-mail so we can share with you our top stories!