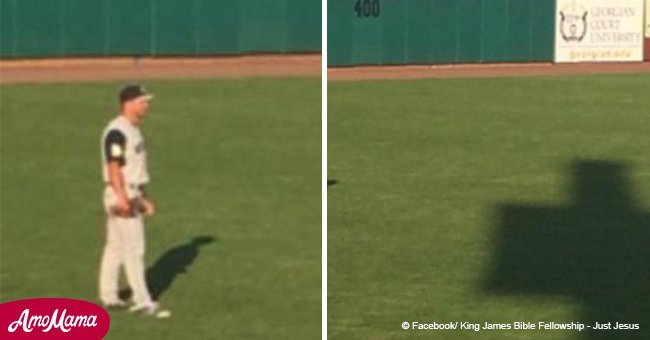 Fans take snaps of Tim Tebow and the strange sight near him and it goes viral

Several people, especially those linked to Christian beliefs, know that there are some things, often labeled as 'coincidences,' that are hard to explain.
Mark Migliori, a former Heisman-winning quarterback, and his two sons, Gavin and Karsin, witnessed one of those 'coincidences' during a baseball match between Columbia Fireflies vs. Lakewood BlueClaws.
As reported by The Wildcard, the Miglioris confessed to being huge fans of Tim Tebow, a professional baseball player whose career has been filled with ups and downs. At one point of the match, the family noticed something strange on the field near Tebow.
Mark immediately took a picture of it and ask his children if they could see what he was seeing. The children agreed and Mark uploaded the image to his Facebook account.
It was a shadow in the shape of a cross that was right in front of Tebow, who was playing on the left field. Mark, who lives in Toms River with his family, recognized the meaning of the cross.
'I know Tim was very religious and all I could think of was him getting down on one knee and praying like he did throughout his career. I know God is watching over him.'
Mark Migliori, The Wildcard, May 19, 2017.
His words set clear that he is really a Tebow fan as a couple of weeks later, he was asked about the impact that the religion has had on his life and career and he said that his faith is what makes a difference.
He pointed out that his strong beliefs determine most of the things he does every day, every choice that he makes, every person that he takes, and every action that he takes.
Tebow finished the interview saying that people whose faith is strong understand how it can totally transform both their lives in the way they want and their perspective about everything they face day after day.
Please fill in your e-mail so we can share with you our top stories!