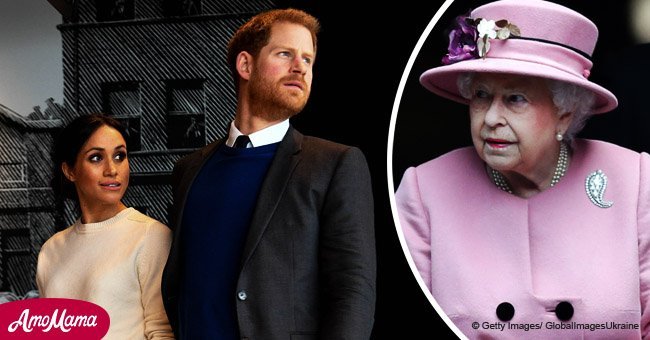 The Queen is likely to skip a big part of Harry's wedding if a favorite British band performs

It is not easy to imagine the Queen tapping her feet to pop music anyway!
As reported in an article published by Inquisitr, biographer Katie Nicholl speculated that Queen Elizabeth II may not attend a part of Prince Harry and Meghan Markle's wedding celebration if the Spice Girls were to perform.
Nicholl also discussed a few details about the budding relationship between the Queen and former Suits star, Markle. The Queen has vocally supported the relationship between her grandson, Harry, and Markle despite her being a divorcee.
The Queen's stance to support the couple raised a few eyebrows amongst the purist as the Queen is technically head of the Church of England that refrains from supporting remarriage of a divorcee.
But the Queen's response to the relationship has been a very heartwarming experience, especially for Markle, who is set to take on the royal duties after getting married to Harry.
The Queen has remarked that Markle has been a positive person in Harry's life and that is an important thing for her. Elizabeth also shares a special bond with her grandson, Harry, and Nicholls claimed that she could never say 'no' to him.
The doting grandmother of Prince Harry has also encouraged the couple to plan the biggest day of their life, their marriage, the way they want it. Nicholls considered this gesture to be very generous.
The author of Harry: Life, Loss and Love was convinced that the Queen may not attend the evening reception of the big wedding if the Spice Girls were chosen to perform, as reported by In Style.
"She's going to want to be a very important part of that day and indeed she will. But if the Spice Girls are performing then, I don't think the queen's going to be on the dance floor."
Katie Nicholls, In Style, March 27, 2018
Former Spice Girls member Mel B had hinted at the possibility of the group reuniting at the royal wedding last month and performing for Harry, Markle and the guests at the wedding.
Harry and Markle are scheduled to tie the knot at St. George's Chapel, Windsor Castle, on May 19th.
Please fill in your e-mail so we can share with you our top stories!