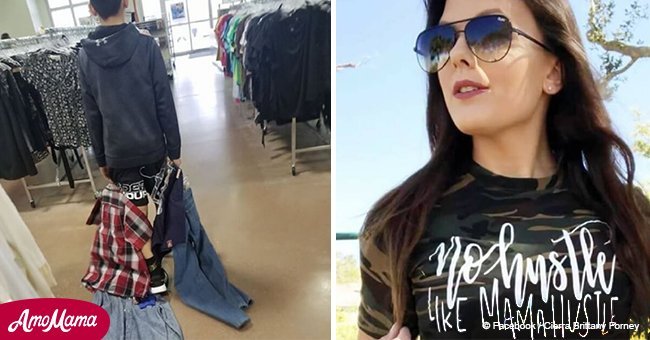 The brilliant way woman taught her 'entitled' 13-year-old son a valuable lesson about money

This mother was praised for teaching her son a lesson.
As reported by Liftable, Cierra Forney noticed her 13-year-old son acting like he's better than the less fortunate students. The Georgia mother has had enough of his rude attitude, and then she came up with a clever punishment.
Cierra taught her son a valuable lesson about money. She also lectured him on how he should mend his attitude and learn to show some respect.
On March 25, 2018, Cierra posted a photo of her son while shopping at Goodwill store in Hog Mountain. In the image, he is seen dragging his new clothes along the floor. The mother wrote that her son had been acting 'entitled' lately.
Cierra explained that he acted like he's superior to others, boasting that 'he's too good to shop at Wal-Mart.' Her son also criticized the underprivileged students 'who shop at the goodwill and quite a few other things.'
'I don't tolerate that. Today, he took his own $20 to the goodwill to buy clothes to wear the entire week to school. Whatever he found is what he would have to wear,' she added.
Cierra went on to explain that her son was sad and even cried during that time. But she believed that in 15 years he will just laugh at the day his mother 'made him shop at goodwill.'
'I want to teach my kids that money isn't everything and if you have to degrade other people because of where they shop. then you too will shop there,' the mother wrote. She concluded that she loves Goodwill, proving she wasn't a hypocrite as well.
Cierra's Facebook post has gone viral with more than 500 thousand likes and more than 200 thousand shares. Many users are also applauding her for her brilliant parenting tactics.
Please fill in your e-mail so we can share with you our top stories!