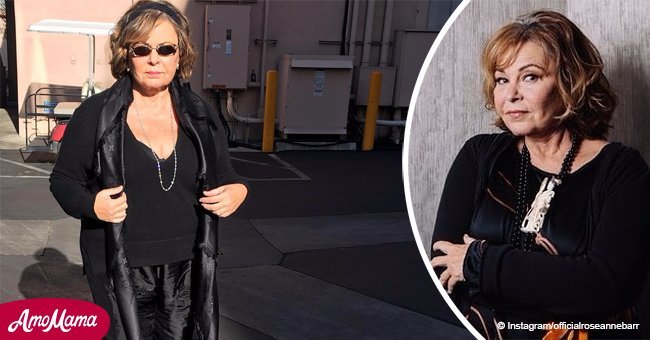 Controversial pictures of Roseanne Barr posing as Hitler appeared on the Internet

The timing of this whole episode could not have been any worse after she made a comeback on TV.
As reported in an article published by Pop Culture, Roseanne star Roseanne Barr faced backlash on social media after an old photo of her resurfaced on Thursday, where she posed with a Hitler mustache and a tray of burnt human-shaped cookies.
According to Fox News, Barr herself had requested to wear the mustache and don the swastika on the sleeve of her shirt during the 2009 photo shoot for Jewish humor magazine Heeb.
Despite being Jewish herself, Barr could not the backlash from people who took objection to the photo. People did not take the photo, depicting a man who killed over six million Jewish people in WWII, lightly.
Barr made a comeback on TV after ABC ordered a revamped season of Roseanne that aired on March 27. The comeback was a huge hit as over 18 million people watched the first episode of the revamped season.
After the show tasted phenomenal success in its first week, Barr's name was dragged into the news cycle for the 2009 photographs. Barr decided to quit social media for some time to celebrate Passover, an eight-day Jewish holiday.
She was heavily criticised on social media for herphoto by many social media users
CNN contributor and comedian, Dean Obeidallah, wrote a post directing at ABC pointing at Barr's photograph and asked the network if they were okay running a show with her.
Kurt Eichenwald, a writer for New York Times, posted an image of an 11-year-old boy named Antosh alongside Barr's infamous picture. He said that he felt the anguish of his family as Antosh was his sons' great uncle who was murdered in the Holocaust.
One social media user, Christopher Bouzy, wrote that he was disgusted with Barr's photo and was surprised to see that ABC gave her a show. He believed that the show needed to be canceled by the network.
This was not the first time Barr faced the heat from the public for being linked to the Nazi Party. Barr had phrased a 'Nazi salute' to one of the Parkland Shooting survivors, David Hogg, on Tuesday in a social media update.
ABC had demanded Barr to delete the update as soon as they learned about the backlash it received from other social media users. Barr hasn't made any comments after the photos resurfaced and neither did ABC release a statement on the issue.
Please fill in your e-mail so we can share with you our top stories!