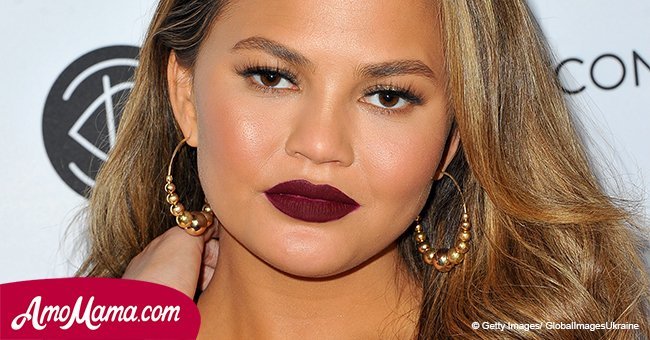 Chrissy Teigen shares her 1-year-old daughter's reaction to her pregnancy
The supermodel mom opens up about her daughter's brutally honest reaction to her pregnant body.
Chrissy Teigen recently opened up about her second pregnancy and what it surprisingly means to her firstborn with John Legend, their one-year-old daughter, Luna.
In an interview with E! News featured by Pop Culture, the candid 32-year-old mom revealed that while her daughter is excited over the fact that she'll be having a baby brother soon, she can also be brutally honest about what she thinks about her mom's pregnancy.
"We take baths together every night and she says a of...she can say some hurtful things in the bathtub sometimes. I think yesterday she pointed at me and she's like 'mamma yucky.' I'm like, 'I know, mamma feels kinda yucky.'"
Because kids will be kids, the 'Cravings' author added,
"They're honest though these kids, they're honest."
However, despite the occasional "yuckiness" that's attached to the feeling of being pregnant, Chrissy admitted she loved being pregnant and considers herself a "happy pregnant person."
"I'm kind of quiet about that because everyone has a different type of pregnancy and it can be exhausting at times but I will say, I really love being pregnant," Teigen said. "I have more energy in a way, it's really nice. I appreciate the style that comes with it. I like everything about it."
She does worry though about how her daughter will welcome her sibling when the time comes, particularly when it comes to the aspect of sharing.
"Just because I can see Luna...she doesn't exactly love to share until she's totally finished with something. I do hear that the firstborn tends to be excited for the new edition for maybe a day or so, they don't really realize that they come back day after day after day. So when she starts realizing that he's gonna stick around...maybe things will change."
Having grown up with a sister herself, Chrissy is optimistic that Luna will warm up to her baby brother the way she and her sister have.
Chrissy revealed her second pregnancy in November after sharing a video clip of Luna announcing there was a baby inside her mommy's tummy. In the video, the doting mom asked her daughter what was inside her belly for which she replied "Baby." She then captioned the clip with "It's John's!"
It won't be long before that little baby is revealed to the world and followers of the supermodel will definitely have their fill of updates from the excited mom who's very active on her social media.
Please fill in your e-mail so we can share with you our top stories!