One elephant dead and more seriously injured when truck overturns on a speedy highway
A truck transporting circus elephants overturned on a busy Spanish motorway. One elephant died in the crash, and its body had to be airlifted away. 
The vehicle overturned southeast of Madrid near the A30 in Pozo Canada near Albacete at approximately 4 pm on April 2, 2018. 
As reported by Daily Mail, the elephants who survived the crash were filmed strolling along the busy motorway and ate the grass along the barriers. 
Police kept residents informed by sharing information on their Twitter account and explained that the A30 'had been closed because a lorry has overturned. Elephants are loose on the tarmac.'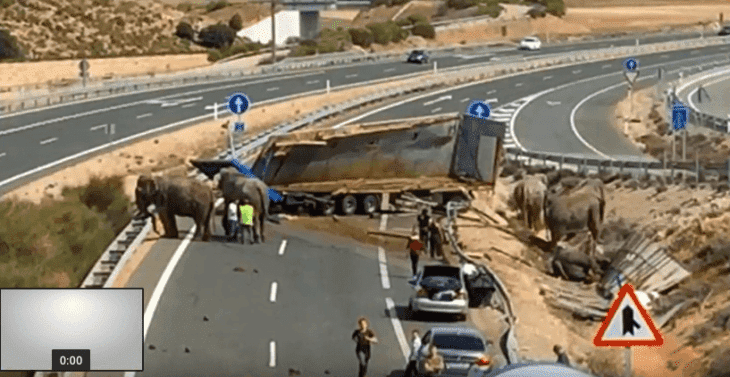 Two elephants suffered severe injuries and were removed from the scene of the accident by rescue workers. The A30 was reopened shortly after they were taken to safety. 
It was later revealed that the animals belonged to Gottani Circus. The president of PACMA, an animal welfare organization said the animals were scheduled to perform at Easter festivals. 
Daily Mail reported that the animals are treated like slaves, and PACMA criticised circuses for exploiting the gentle giants. The organization pointed out that circuses enslave animals.  
Officials confirmed that the matter is being investigated and that a 'report on the accident' will be sent to a local judge for consideration. 
The Spain Report also shared photos of the accident scene and informed their Twitter users that the motorway is closed and that the elephants are 'enjoying the scenery.' 
New Wave Villas shared a photo of one of the injured elephants, and deep gashes can be on the animal's head. "This is a despicable practice," the caption read.  
PACMA located the rescued animals and are working towards freeing them. A petition was also created for the cause, along with the hashtag #FreeElefantesGottani.
At the time of publishing the petition had 50,510 signatures. The campaign aims to ask the Spanish Government to prohibit Gotanni Circus from mistreating animals.