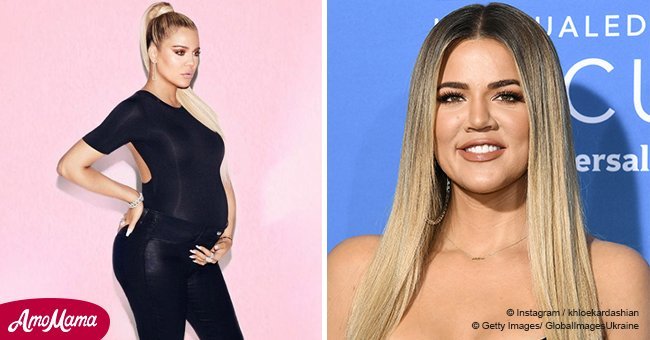 Will Khloe Kardashian give birth in front of the cameras like her older sister?
Fans of Keeping Up With The Kardashians were curious about Khloe's birthing plan and wondered if she would give birth in front of the cameras.
Khloe Kardashian's baby is expected to arrive any day now. She only confirmed the pregnancy in December 2017 and had kept details of her experience private for the most part.
As reported by Hollywood Life, the first-time mother-to-be 'banned KUWTK cameras from filming her birth and doesn't even want her family present.
She only wants her partner, 27-year-old NBA athlete, Tristan Thompson, and her doctor in the room during the birth. Of course, her mother and sisters are not happy about her plans.
A source close to the couple said that Khloe wants a "normal birth with no entourage, no camera, no outrageous reports." The 33-year-old reality star known to follow her own path.
Her older sister, 38-year-old Kourtney Kardashian, gave birth to her now 5-year-old daughter, Penelope, in 2012. The entire process was filmed.
Khloe wants the opposite, she "just needs a small room to herself, clean and neat." She insisted that her family stay at home and demands "peace and quiet."
This is Khloe's first pregnancy and according to Hollywood Reporter, it 'has changed her life in more than ways one.' Her fans might not be happy about these changes.
The source explained that Khloe wants her child to have a normal life, away from the glitz and glamor that comes with being a Kardashian.
While no member of the Kardashian family confirmed the rumors, it appears as if Khloe might leave the successful reality show after having appeared in fourteen seasons.
If the source is to be believed, Khloe 'doesn't want to [continue with the show] after the baby comes,' and Thompson will support her regardless of what she decides.
He allegedly told her that they have enough money to live comfortably so leaving the show wouldn't put financial strain on Khloe. She also her own fashion line, Good American.
Please fill in your e-mail so we can share with you our top stories!