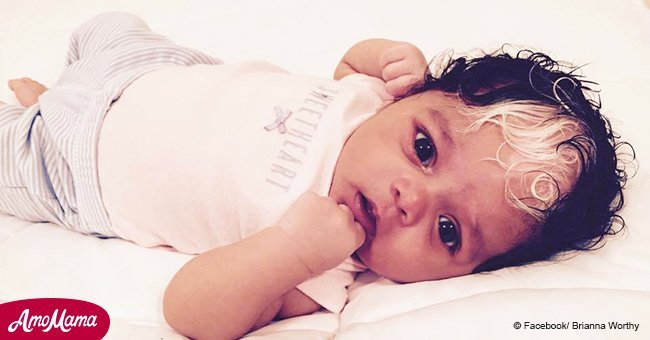 Remember the baby with unique hair? But you probably didn't see his look-alike mother
A baby girl was born with the same genetic disorder as her mother.
Shared reported that a baby, who was born with unique hair and shares an uncanny resemblance to her mother, is winning the internet.
One may wonder why anyone would want to dye a patch of hair white. That is probably what many think when they see MilliAnna.
The adorable infant, who lives in South Carolina with her mother, Brianna Worthy, has a genetic 'birthmark' that has turned her hair white. She has the same hair coloration as her mother.
This is caused due to a condition called poliosis. This leaves the hair and skin with no pigment. The condition causes a white spot, and if the spot happens to be around the hairline, then the hair has no pigment.
In fact, MilliAnna is now the fourth generation of her family with the striking trait. It is also visible on her grandmother, 42-year-old Jennifer, and her great-grandmother, 60-year-old Jaonne.
The toddler's mother, Brianna, said, "We are unsure how far back the birthmark goes as my grandmother was adopted as a child and hasn't met her biological family.'
The mother had hoped that her daughter did have it. Her younger sister did not get the unique hair, and so Brianna did not know if MilliAnna was going to get it.
However, when she had laid her daughter on her chest right after the birth, Brianna noticed the distinctive mark and was happy.
She admitted that the unique feature has its downsides. The family gets stopped a lot while they are out on their daily routine. Though she answers many questions, it can be overwhelming at times.
The mother hoped that her daughter is able to embrace her uniqueness as she gets older. She plans to raise her daughter "knowing she is beautiful and special" and to not listen to people's mean comments at times.
Please fill in your e-mail so we can share with you our top stories!