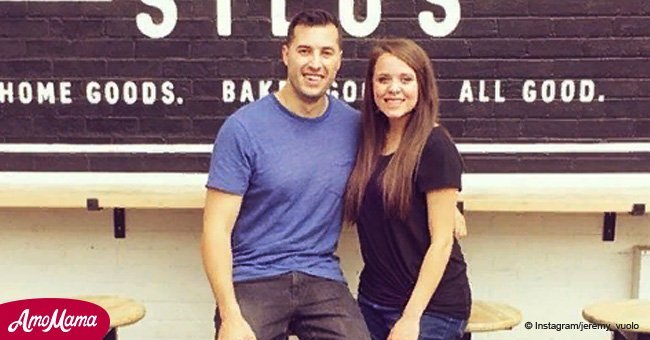 Jinger Duggar shamed for the size of her baby bump after posting a new bump picture

This isn't the first time a celebrity was criticized on social media during their pregnancy.
As reported in an article published by Inquisitr, Counting On star Jinger was attacked by social media users after a photograph of her was updated via the social media account of her husband, Jeremy Vuolo.
The image was taken when the couple visited Chip and Joanna Gaines' Magnolia Market store in Waco. Duggar was seen wearing tight-fitting jeans along with a baggy black T-shirt tied at the end.
She sat on a stool in the photo and had hunched slightly when the picture was taken. This posture did not accentuate her baby bump as much as it could have if she would have stood upright.
Vuolo's photo update started receiving multiple comments in no time. Some fans expressed that the baby bump was very small for a woman who is 23-24 weeks pregnant while some were unable to spot the bump altogether.
One user, Jarrett Winton, complimented the couple's photo but was surprised to see no baby bump while another user, Diane Lowry Gordon, said that there was a baby bump but it was very small.
Social media users like Katie Jessee and Grace Dankert were equally perplexed about the lack of a baby bump in the picture shared by Vuolo. Another user, @sfmeeks, believed that it was an old photo when Duggar wasn't pregnant.
The publication Romper deemed the negative comments on Duggar's latest photos to be slightly judgemental and obtrusive. In the article, Romper cited a study that suggested that such comments can be detrimental to a pregnant woman.
Duggar has not responded to the comments publicly. In an interview with US Magazine, Duggar had expressed her concern for her baby's size. Her sister, Joy-Anna, had given birth to a boy who weighed 10 lbs.
As reported by Style Caster, other celebrities who received similar comments during their pregnancy include Chrissy Taegan, Kate Middleton, Khloe Kardashian as well as Duggar's sister Joy-Anna.
Please fill in your e-mail so we can share with you our top stories!