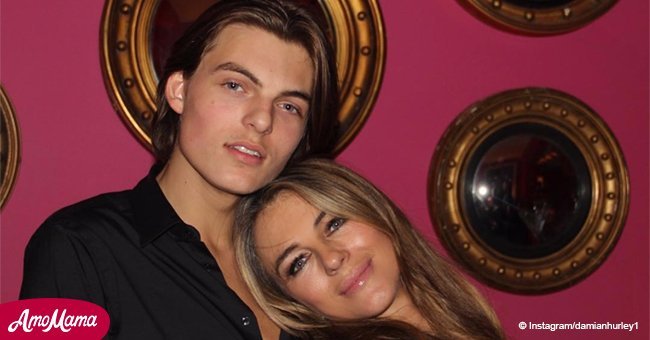 Elizabeth Hurley is shamed for wearing 'inappropriately' revealing dress when with her teen son

Despite a few social media users lashing out at her, the actress' positive stance encouraged people to post positive comments.
As reported in an article by Pop Culture, The Royals actress, Elizabeth Hurley was criticized on social media after she uploaded a photo of herself in a bold outfit with her 16-year-old son, Damian Hurley, on his birthday last week.
The 52-year-old wore a sequined laced partywear that revealed ample cleavage. Her shimmering low-cut dress became the center of attention as social media users took turns to comment on her wardrobe choice.
Hurley let her golden tresses flow across her bare shoulders and sported glittering hoops for the festive occasion. Some followers criticised Hurley for grabbing the attention from her son with her revealing outfit in the picture.
In the photo, her son Damian wore a suit with a blazer with a brown theme, similar to Hurley's outfit. His blazer had an intricate floral pattern.
"Happy Birthday to my little prince. The light of my life for the last 16 years."
Elizabeth Hurley, Instagram, April 5, 2018
According to Yahoo Lifestyle, the 52-year-old was targeted by a few 'trolls' minutes after she posted the photo.
One user, Allison, insinuated Hurley was desperate for attention. She claimed that despite being half the age of Hurley, she never felt the need to dress up the way Hurley did.
Another user named Taygen Klein called Hurley's outfit decision to be trashy and low class and accused her of doing anything for attention at her age.
However, numerous internet users stepped into the conversation to defend the former model. A follower, Carl Stillwell, admitted that although he did not agree with Hurley's choice of outfit, he did not see a reason to be nasty to her.
Another fan, Dana Brumfield, believed that there was nothing wrong with Hurley's dress and complimented her for her beauty at the age of 52. Although she wished that Hurley reduced the black eyeliner to reveal her beautiful eyes.
Please fill in your e-mail so we can share with you our top stories!