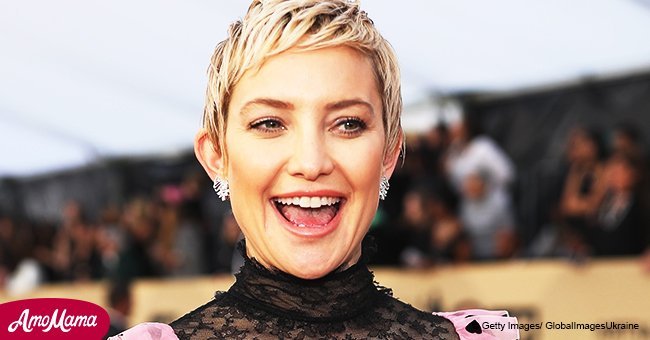 Great news from Kate Hudson. She will have new family member in her life
They say that third time's the charm and it looks like it will be that way for Kate Hudson as she announced the happy news on her social media on Friday.
The 38-year-old actress shared the surprising news by posting a video of what seemed to be a gender reveal party. AmoMama got the scoop from Daily Mail.
This will be Kate's third child and this time, it will be a daughter after having two boys. Also, this will her boyfriend's, Danny Fujikawa, first kid.
In the video, Goldie Hawn's daughter is in a long, white bohemian dress while Danny is in a darker outfit with a sling on his arm. They are in their backyard holding black balloons that had question marks on them.
The Almost Famous actress then popped a balloon and out came small pink balloons, which obviously revealed a baby girl.
Kate stated that she could no longer hide the news since her belly is starting to show and she was "exhausted" about making such a fuss about it. Her lengthy caption read:
"SURPRISE!!! If you've wondered why I've been so absent on my social channels it's because I have never been more sick! It was the most sick first trimester of all my children. Boomerangs have made me nauseous, Superzoom is an easy way to have my head in the toilet, food instagrams make me queezy and thinking too much about insta stories made me even more exhausted than I already had been. If you've seen me out and about smiling and pretending like everything is amazing...I was lying! BUT! I have broken through on the other end of that and rediscovering the joys of insta/snap."
The blonde beauty then added:
"We have been trying to keep this pregnancy under the radar for as long as possible but I'm a poppin now! And it's too darn challenging to hide, and frankly hiding is more exhausting then just coming out with it! My kids, Danny, myself and the entire family are crazy excited! A little girl on the way [heart emojis]."
The Oscar nominee has two sons—Ryder Robinson, 14, with her ex-husband Chris Robinson, and Bingham Hawn Bellamy, 6, with musician Matt Bellamy.
Please fill in your e-mail so we can share with you our top stories!