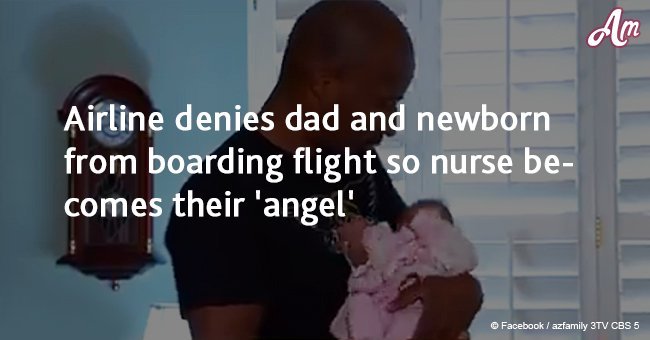 Airline denies dad and newborn from boarding flight so nurse becomes their 'angel'
Swift says he didn't have any money to stay somewhere or rent a car to drive back to Ohio. He was in a tough spot.
Rubin fought a long custody battle while the mother of his child was pregnant with her. He is from Cleveland, while the mother lives in Phoenix. However, Rubin won custody of his daughter and he planned on flying to Arizona to get her and bring her back to Ohio.
According to Liftable, Rubin spoke with Frontier Airlines about what he needed to do to get the baby on the plane and what paperwork he needed like a birth certificate and a note from Banner University Medical Center stating she was cleared to fly.
Equipped with all of the proper documentation, Swift tried to board the plane with his 4-day-old daughter Ru-Andria; however, Frontier denied Swift's boarding claiming they don't allow infants under the age of 7 days to fly.
But when Rubin asked for his money back, he was informed that it would take seven days for the refund to go through. With no money and nowhere to stay, the father and newborn were stranded.
But it turns out that Swift has a guardian angel. While his daughter was in the NICU at Banner, he met a volunteer who helped out there, Joy Ringhofer. She helped take care of the baby while at the hospital.
He called Joy Ringhofer, and without hesitation, Joy told Rubin that she would pick him up and bring him home. Rubin called her thinking she would know someone to contact or have some advice, but he was blown away by her actual response.
'I didn't expect her to say, 'I'm coming to get you and take you home,' Rubin said. Ringhofer opened up her home to Swift and his baby. For 7 days, the two sought refuge at Ringhofer's home.
Rubin was thinking the nurse was going to drive him back to Cleveland, but she actually brought him to her house and simply started feeding him and making sure his baby was alright, told Rubin to a local TV station.
Swift said he started calling Ringhofer the grandmother of his daughter and is planning a trip back to Arizona so Ru-Andria can visit her. 'He promised to come back and visit me, and let me see her again,' said Ringhofer. 'I'm looking forward to that.'
Frontier Airlines told Arizona Family that they waived any fees associated with the flight change and that the father-daughter duo was booked on a flight back to Cleveland on March 20, 2018.
Please fill in your e-mail so we can share with you our top stories!