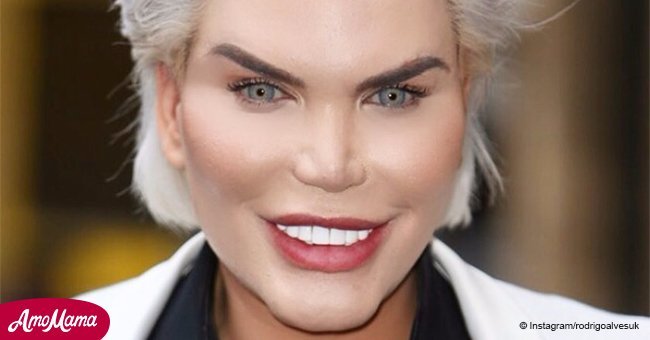 Human Ken Doll dons skimpy red lingerie and a black wig revealing his new sexuality
He recently decided he quite liked the idea of gender fluidity, and introduced himself as someone new.
Rodrigo Alves, known world wide by his moniker, Human Ken Doll, recently dressed in women's lingerie and introduced the world to "Jessica Alves."
As reported by Daily Mail, Alves recently spoke up to say that he didn't feel that people should be forced to identify to with a single gender.
The 34-year-old Brazilian native shared images of Jessica wearing a black wig, and a red bra with a matching lip color.
He captioned the images, explaining why he had dressed up as he had.
"It felt good to be someone else rather than the Rodrigo Alves aka Ken Doll. I got a lot of attention when I go out as me but this time I was able to be neutral and just enjoy myself as Jessica Alves," he said.
Alves then also shared images where the red bra was traded in for a black one with matching accessories.
Later on, other images of Alves were shared dressed as a man, where he explained that he was taking a break from his busy lifestyle to rather spend some time focusing on his "summer body, mind, and soul."
Alves has been outspoken in the past on gender issues, saying that he doesn't feel that the physical body should determine how people should dress or behave, or what they should be interested in.
"When I was a boy my long gone granddad used to buy me Barbie dolls to play with and I used to love wearing granny panties and dresses," Alves said.
He continued, expressing his desire that people be allowed to express themselves however they see fit, rather than being boxed in to specific stereotypes.
Alves then explained that he himself identifies as gender fluid, liking both male and female fashions and interests.
He has undergone numerous medical procedures to look the way that he does today, and is known across the world for his love of makeup.
Recently, he returned to his home country of Brazil, which he admitted was a highly emotional trip for him, as it brought back terrible memories of the bullying he had endured as a child there.
Alves left Brazil 17 years ago when he moved to the UK to study, but admitted that the bullying he suffered through as a child was what got him interested in undergoing plastic surgery in the first place.
"I used to be very much bullied when growing up in Brazil because I was fat, ugly and misshapen and I never fit in into the Brazilian beauty stereotype," he explained.
Fortunately, Alves was able to grow strong through all the bullying, and feels he is better off now for it, as it spurred him to reinvent himself.
Please fill in your e-mail so we can share with you our top stories!