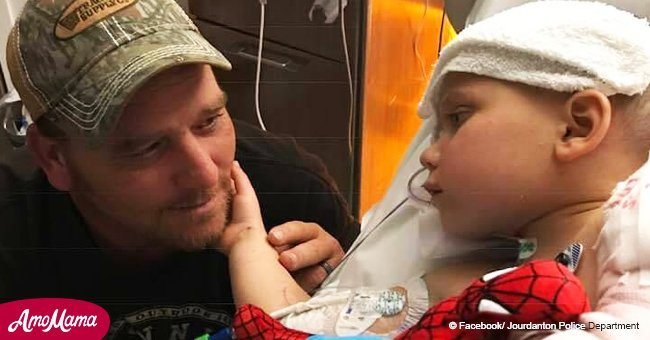 Fireman saved a 6-year-old boy from a massacre. He shows up at the hospital to bring him home
Sometimes, when tragic things happen, there's no way to make it better, but these kinds of gestures can light up someone's day, and that should be enough motivation to do them.
This was the case with Stockdale Volunteer Fire Department firefighter Rusty Duncan, who promised a boy a special ride in a firetruck after he had to withstand hell on earth.
According to Liftable, the 6-year-old boy was shot last fall by a Devin Patrick Kelley, who opened fire inside First Baptist Church of Sutherland Springs, a rural Texas church.
During the massacre, 26 people were dead and 20 wounded, making this incident the worst church shooting in American history.
Volunteer firefighter Rusty Duncan was the first responder that day, and he told ABC News he was the one who found Ryland and rescued him.
His stepmother, Joann Ward, shielded him during the horrible shooting, and her body protected him from the worst of the gunfire.
"I was just checking for survivors, and I felt a little tug on my pant leg. I looked down and a little hand was coming from under somebody," Duncan explained.
Ryland's stepmother reached out to Duncan soon after he was rushed to the hospital and he continued visiting over the weeks.
After two months of being hospitalized, when Ryland left the hospital, Duncan arranged a special ride home for the young survivor. The boy got to sit up front in a fire truck in a gigantic convoy.
When that day finally arrived, Ryland was static about the ride. "He wanted to go faster. He wanted the siren to be louder, and he wanted me to honk more at all the people," he said. "He was having a blast," Duncan explained.
Sutherland Springs community members gathered in wait, holding signs including 'Welcome home handsome' and 'Yay buddy.'
Please fill in your e-mail so we can share with you our top stories!