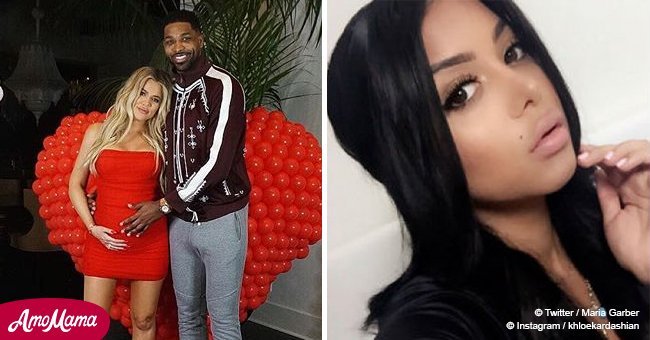 Girl who Khloé Kardashian's beau 'cheated with' speaks out: 'I'm pregnant!'
The Keeping Up With The Kardashians star is dealing with a lot at the moment. Her boyfriend and father of her soon-to-be-born daughter has been accused of cheating.
The self-proclaimed mistress has now gone as far as claiming that she's also pregnant by Tristan Thompson. Celebuzz reported that the claims were made on social media on April 10, 2018.
A woman who claimed to be the one who spent the night with the Cleveland Cavaliers player this past weekend has also claimed that she's also pregnant. The alleged mistress goes by @ms.stephaniee_ on Instagram.
The woman revealed the news just hours after video footage of Tristan Thompson, 27, appearing to make out with a woman at a New York City rooftop bar surfaced. In a number of now-deleted Instagram Stories, Stephanie alleged that she had spent the night with the athlete.
She shared a video on her account of a man and a woman in the middle of a sexual encounter on a bed. But the faces of both the woman and man aren't visible in the clip.
According to TMZ, Stephanie also shared several screenshots of sexts she claimed were sent by the NBA player. She also tagged Thompson in a selfie, writing alongside an eggplant emoji, 'Mood @realtristan13 Zaddy.'
'If I was there I would grab u while u try to walk away from me than I would pull ya hair and kiss you than rip ya clothes off and lay u down while I suck ya p**** and say sorry.'
Stephanie, Celebuzz, April 11, 2018
Kardashian supporters and skeptics started to confront the woman about the allegations. That's when she told them that they all just needed to be happy.
Then she claimed that she was also pregnant, just like Kardashian according to Perez Hilton. 'I'm pregnant too since everything out here,' she wrote in a shocking confession.
She also added that Thompson wasn't the only Cavaliers player either but that there was one more. Instagram since suspended Stephanie's account for violating their terms of services by posting explicit material.
The video of Thompson and the woman who claimed to be Stephanie was shot on Saturday, April 7, 2018. In it, the NBA star was seen chatting with a female companion inside his VIP booth before allegedly leaning in for a kiss.
Since then, several videos have been released including one that was taken around the time that Kardashian was three months pregnant with Thompson's child. In those clips, the NBA star was seen kissing a woman at a Washington D.C. hookah lounge while being groped by another female companion.
Currently, the reality TV star is in Cleveland preparing for the arrival of her first child with the Canada native. Neither she nor Thompson has made official statements about the scandal.
Please fill in your e-mail so we can share with you our top stories!