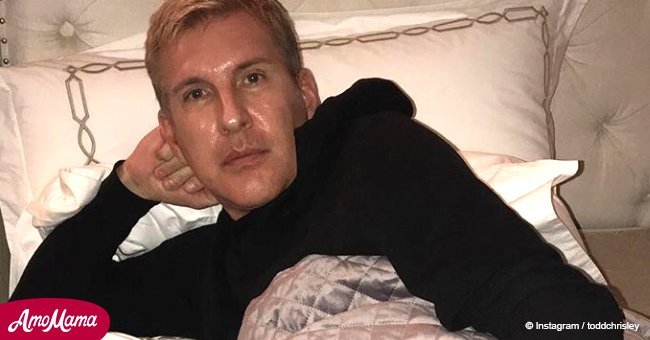 Todd Chrisley's talk show is reportedly canceled after one season
The talk show is canned after just one failed season.
Radar Online reported that According To Chrisley will not appear again on the air as 'no one was connecting to it.'
Todd Chrisley is feeling the heat as his talk show career does not seem to take off.
It had been earlier reported that the show had some serious production problems and it nearly did not make it to air at all.
An insider had said that the show was in development for about three years and Chrisley found it difficult to get it off the ground.
With countless reshoots and being rewritten at least 10 times, the new development does not come as a surprise to many.
The show has now been canceled after the first season and will not come back for another season, according to a source.
Another source said that the show "felt stale" and that no one "was really connecting to it."
It was also reported that the host, Chrisley, had even hired a team of comedy writers in a desperate attempt to liven up the show. However, all attempts have failed to bring up the show to the desired level.
However, the star's reality show, Chrisley Knows Best, will return for another season and is set to premiere on May 8, 2018.
Chrisley's estranged children, 26-year-old Lindsie and Kyle, will not be coming back to the show, though Chase, 21, Savannah, 20, and Grayson, 10, will come back along with wife Julie, 45.
USA Network renewed the show for a sixth season. The show has been averaging 3.2 million viewers each week.
According To Chrisley, which also aired on USA Network, was a half hour after-show that followed episodes of the popular reality show focused on Atlanta's own Chrisley and his family.
The show featured the host talking about the truth about marriage, parenting, and relationships. There were also a few celebrity guests including Ali Landry, Chris Jericho, Erika Jayne, Carmen Electra, among others.
Please fill in your e-mail so we can share with you our top stories!