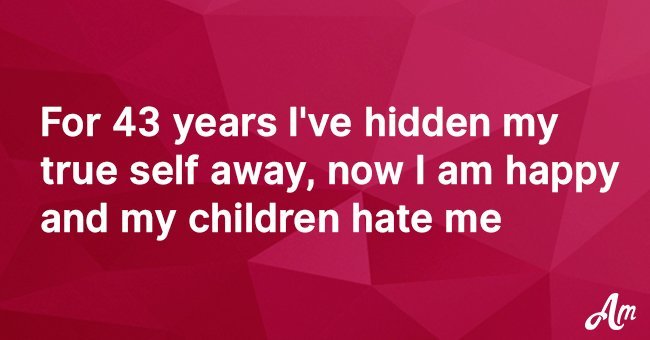 For 43 years I've hidden my true self away, now I am happy and my children hate me
I am a 66-year-old woman and I was married for 43 years to a wonderful man. My husband and I met when I was 15, and we married when I was 21 and he was 26.
We had 3 children and a successful marriage, I suppose, though I always felt there was something missing. My husband was a gentle and considerate lover, but somehow something didn't work for me.
When we got older, we became closer and closer as friends and companions, and the sex side of our marriage slowly faded away. Three years ago, my beloved husband passed away: He died in his sleep from a heart attack and it was a huge shock for me and the girls.
I fell into a depression and I somehow felt a deep and inexplicable guilt, as if I had been responsible for his death. I went to therapy and I realized that that guilt I felt was because I hadn't been happy, though he had been so loving and so kind. I know that at some level he knew I didn't quite feel the same for him, as he did for me.
My daughters encouraged me to get out of the house and start art classes which was an old, old dream of mine.
My art teacher is a woman a little younger than me, very bright and hugely talented. She encouraged me to invest more time in my art, told me I had talent. One day I stayed late after class, and she opened a bottle of wine and we sat and talked for hours. When I left I hugged her, and somehow we were kissing.
We were both surprised but were incapable of denying this powerful attraction. After speaking to my therapist and a lot of soul-searching I realize that this is who I have always been. I loved my husband but there had never been any sexual attraction between us.
My friend and I are very much in love and are building a relationship and so last week I invited the girls for tea and told them.
All three are such liberal open-minded women, and their reactions blindsided me. My youngest and my oldest were outraged, and my middle girl told me she didn't see the point of my talking about my sexuality now when I was too old for it to be of any importance whatsoever.
I told them there was a person in my life, that I wanted them to meet my friend, and they told me - basically - that I was disrespecting their dead father and that I was disgusting.
I am devastated. I know my daughters have gay and lesbian friends so none of this is a novelty. They love and accept their friends, but reject me.
I don't know what to do, how to deal with this pain. I have been there for my children all their lives, and they told me they wanted me to be happy - but on THEIR terms. They say I must decide because they won't have their children having to deal with the embarrassment of a 'geriatric lesbo gran.'
What do I do? Do I turn away from my new love, and a happy and fulfilling future? If I don't, I lose my beloved family. Please, how can I live so divided?
If you need help or advice, reach out to us, and thousands of women just like you who are struggling with the difficulties of life. You are not alone, we are here for you, and we listen; so write to us anonymously using this form.
Please fill in your e-mail so we can share with you our top stories!