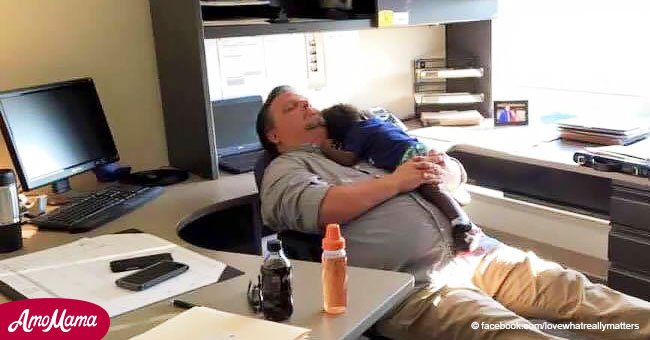 Woman visits husband at work after hours and notices that he is not alone
After she finally got to his office and saw what was happening behind her back, she couldn't resist but to cry.
When Chellie Heckman's husband, who worked as a supervisor in the Department of Family and Children Services, started to come home late after work, she became really suspicious.
Her family wasn't going through a rough spot, and they were in no need of extra income, which caused her to question the reasons behind him working that much extra time.
According to Newsner, not knowing what was going on made her feel jealous, thinking that her husband might be having an affair at work.
The woman couldn't stand it very long and decided to visit him at work without a notice just to figure out what was happening, and she definitely was surprised enough.
Her husband, exhausted, was taking a nap with a child that he helped by staying after hours, making sure he was looked after. He also went back in early again the next day.
This wife, moved by the scene, took it to Facebook, where she wrote some powerful words about her husband, complementing his good-willed heart, and his line of work.
'You never hear anyone say "Oh yay, here comes DFACS." They run and avoid, lie and don't cooperate when the job they are doing is trying to help the children,' she wrote.
According to Uplift, she explained that her husband, among many others, does a very thankless job, claiming that although it takes a very special person to handle it, they are hardly recognized when something positive is achieved.
'His focus was to make sure this baby was cared for and felt safe. After taking this baby into the care of the state, in the process of placing him into foster care, he had to stay after hours and return to pick him back up before hours,' she also wrote.
She also claimed that the baby was a little bit fussy because he was away from family and familiar faces. He was soothing him and they had a special moment together.
Please fill in your e-mail so we can share with you our top stories!