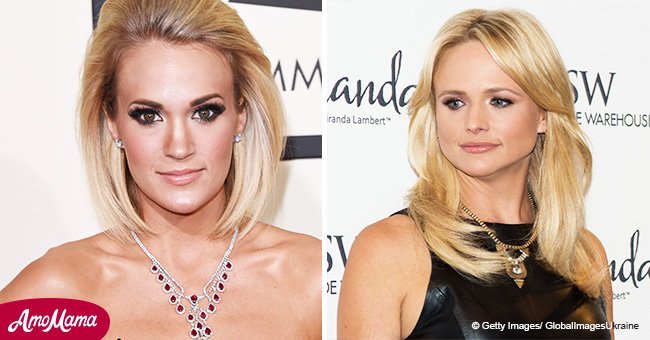 Carrie Underwood reportedly praised by Miranda Lambert after she breaks down on stage
When someone takes their time to get back onstage after suffering an accident, most people surrounding them do their best to make them feel welcomed again.
That's Carrie Underwood's case. In November 2017, she had a brutal fall that fractured her wrist and left her face severely injured. Doctors had to use around 50 stitches to help her face heal.
According to Inquisitr, her fellow country females know all she has gone through and took their time to praise her during and after the show. Miranda Lambert was one of them.
She said that Underwood, who got the award for Vocal Event of the Year next to Keith Urban for The Fighter, was doing a great job. Lambert addressed a different aspect of the ceremony, as well.
The fact that there were no women nominated in the Entertainer of the Year category at the 2018 ACM Awards this year was very disappointing for her, who claimed to be trying to do things as good as possible.
She added that if she and Underwood kept doing their job flawlessly, women in the genre will get the recognition they deserve. Reba McEntire, who was hosting the ceremony, also shared some words about Underwood.
In the past couple of weeks, she had been saying how excited she was for giving a huge hug to Underwood. When she finally did it, she took to Instagram to share the moment.
'She's gone through a lot, and I am proud that she's back on the stage again. She's a tremendous vocalist, incredible — got legs to die for — but she's an incredible vocalist.'
Reba McEntire, Inquisitr, April 16, 2018.
Kelly Clarkson also shared her thoughts about Underwood, saying that it was great she was better and that since they are both mothers and CEOs, they are 'killing it.'
Underwood seemed to be back on track in her life and her fans cannot wait to see her perform again.
Please fill in your e-mail so we can share with you our top stories!