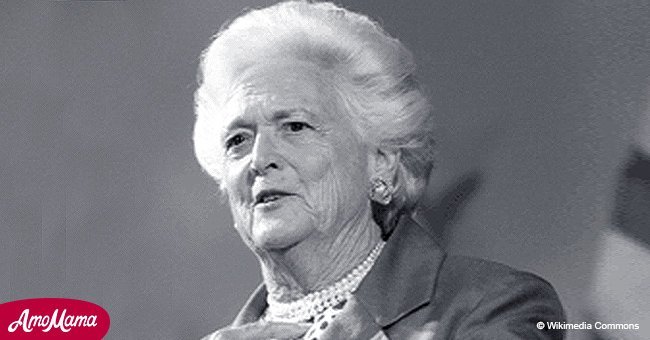 Barbara Bush will be buried with deceased toddler daughter
One of the most beloved First Ladies of the United States of America has passed away, and the Nation mourns.
On the 17th of March 2018, America bid farewell to a woman who has been an icon of dignity, and a peerless example of grace under fire. Barbara Bush, wife of George H. W. Bush, 41st President of the United States passed away at the age of 92.
The funeral services in honor of Mrs. Bush will take place on the 21st of April 2018 at the St. Martin's Episcopal Church in Houston. Mrs. Bush's body will lie in state at the church from midday to midnight on the 20th of April, and members of the public wishing to pay their respects are welcome to do so.
The Bush family has informed the media that Mrs. Bush will be interred in Texas, on the grounds of the Texas A&M University library founded by the Bush family, reported Time.com on the 18th od April 2018.
Robin Bush, Mrs. Bush's young daughter who died in 1953 is also buried here. The funeral will be private, and attendance is by invitation only.
"My dear mother has passed on at age 92. Laura, Barbara, Jenna, and I are sad, but our souls are settled because we know hers was [...] I'm a lucky man that Barbara Bush was my mother."
George W. Bush, Wikipedia, 17th April 2018.
Barbara Pierce Bush lived through some of the most turbulent times her country has ever experienced, including WWII, the Korean and the Vietnam wars. She met George Herbert Walker Bush at age 16 and married him at the age of 20 when he was on leave from the Navy during World War II.
Mrs. Bush gave birth to six children, one of which, George W. Bush, would become the 43rd president of the United States. Thus, Mrs. Bush became the only woman to be both wife and mother to American presidents.
To her eternal grief, her second child, her daughter Pauline Robin died at the age of 4. Robin was diagnosed with childhood leukemia when she was only 3 and died in her mother's arms. It is next to her beloved child that Mrs. Bush will be laid to rest.
Barbara Bush worked tirelessly all her life, during her time in the White House and later as a private citizen to promote literacy. As her legacy, she leaves the Barbara Bush Foundation for Family Literacy and the memory of a great lady who served her people and her country with great energy and devotion.
Please fill in your e-mail so we can share with you our top stories!