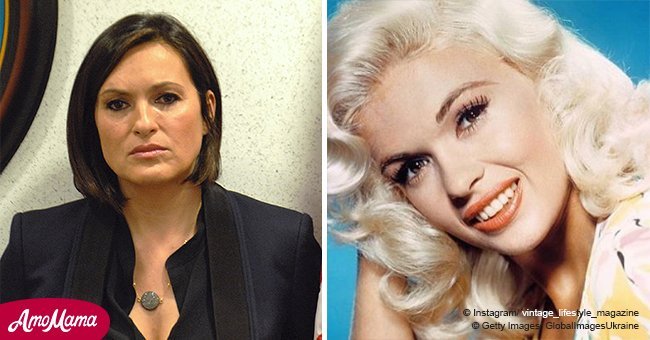 Mariska Hargitay gets candid about the horrific accident that took her mom's life
Mariska Hargitay struggled for years to overcome the lingering trauma of her movie-star mother's tragic death.
Fans know the beautiful Mariska Hargitay best as the compassionate and determined Olivia Benson in Law&Order: Special Victims Unit. What many may not realize is that Hargitay is the daughter of legendary sex-symbol Jayne Mansfield who died when the actress was just 3 years old.
The actress has finally opened up about her pain and the trauma she suffered after her mother's death in a bizarre car accident in 1967.
Mansfield, her companion Sam Brody, their driver Ronnie Harrison and three of her children - Miklós, Zoltán and Mariska - were riding in a 1966 Buick on their way to New Orleans, when they crashed into the back of a tractor-trailer.
Mansfield, Brody, and Harrison were killed instantly, but Mariska and her brothers, asleep in the back seat were unscathed. The children woke to horror and chaos, and the news that their mother was dead.
"The way I've lived with loss is to lean into it. As the saying goes, the only way out is through."
Hargitay confessed that she became prey to what she calls 'catastrophic thinking'. She believed that anything could happen, and death and disaster were never more than a heartbeat away.
The 54 years old shared that she lived a great part of her life avoiding pain, loss, and 'feeling things.' Her great struggle was overcoming her 'dark side' and becoming an optimistic person who believes that ´things can be so bright´.
Hargitay was raised by her father Miklós after the death of her mother, whom she adored. She credits his patience and love for her recovery and helping her to become the woman she is today.
The actress believes she owes her strength and acting ability to her mother and explains that though the world saw Mansfield as a 'dumb blond bombshell' she was, in fact, a brilliant woman with a genius level IQ and a gifted violin player.
Hargitay is happily married to fellow actor Peter Hermann whom she met on the set of Law&Order: Special Victims Unit in 2004. The couple has three children: Amaya, Andrew, and August.
Please fill in your e-mail so we can share with you our top stories!