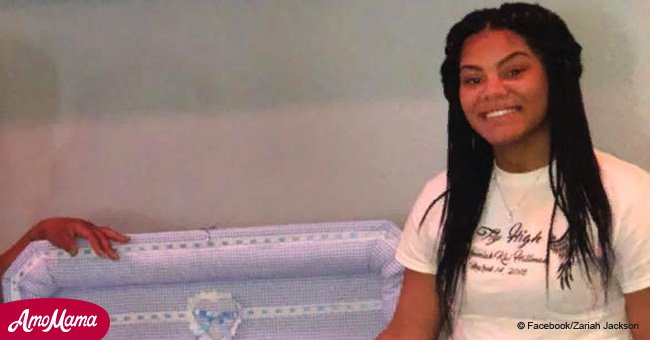 Grieving mother shares photos of stillborn son in coffin
Zariah Jackson, a 17-year-old mother of a stillborn baby, received backlash from netizens when she shared photos of her son on social media.
Her son, Jeremiah Kai Hillman, was stillborn on March 14, and Jackson described it as the 'night [her] life really changed.' She said the entire birthing process was silent.
As reported by Mirror, Jackson was overcome with extreme feelings of loneliness, which was the driving force behind sharing photos of her son online.
"I wasn't screaming, I just laid there tired and just held my lifeless baby and cried."

Zariah Jackson, Mirror, April 18, 2018.
According to Independent, Jeremiah had a congenital disability of the abdominal wall known as gastroschisis. In such cases, a baby's intestines forms outside of his body.
She uploaded the photos to her Facebook and Instagram accounts. Some photos were taken at the hospital, and others were taken at his funeral.
The comments on Facebook, mostly from her family and friends, were considerate and supportive. Her friend, Audrey Marie Daley said Jeremiah was precious and added that Jackson 'would have been amazing to him.'
Cassandra Keeton reminded Jackson that Jeremiah is with her every day, 'watching his mommy,' while Lexus Castro said Jackson is strong and an inspiration to other mothers.
However, the comments on Instagram were mostly from people who felt that it was inappropriate to post photos of her dead baby.
Jackson has since deleted the posts and changed the privacy settings on her Instagram account, but her Facebook account remains public.
She explained on Facebook that she didn't share her story so negative people can attack her for it, she only wanted to remind people that certain things happen in life that can either 'make you or break you.'
In her case, the battle God gave her was to lose the person she loved the most. The lesson she learned from that was to appreciate what we have, while we have it.
Jackson wanted confirmation that she wasn't 'the only mother without a baby.' Despite the negative feedback she received, Zariah is grateful for the opportunity to raise awareness for stillbirth.
Please fill in your e-mail so we can share with you our top stories!