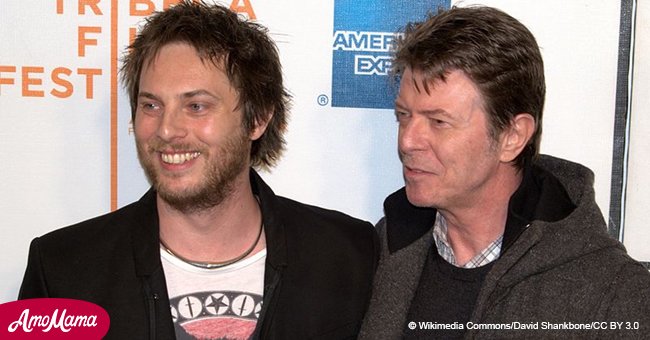 David Bowie's son proudly announces the birth of his second child

The 46-year-old director, producer, and screenwriter, Duncan Jones, announced on social media that his wife Rodene Ronquillo gave birth to their daughter.
On April 18, 2018, he shared a satirical drawing with his 342,000 Twitter followers and wrote in the caption that 'the sequel to the hugely popular Stenton Jones' has been let loose on the world.
Stenton David Jones is their first son. He was welcomed into the world on July 10, 2016. Duncan and Rodene, a photographer, exchanged vows in 2012.
As reported by Entertainment IE, Duncan is the late David Bowie's son from his first marriage to Angela Barnett. Stenton and newborn sister would be Bowie's only grandchildren.
Duncan wasn't the only one who couldn't contain his excitement and Iman, Bowie's widow also shared the joyous news on her Instagram account.
She reposted Duncans' tweet and congratulated the 'ever-expanding Jones Clan. She also used the hashtags 'Baby Jones' and 'Granddad Jones.'
In another post, she uploaded an image with three words only: 'Thankful. Grateful. Blessed. Fans rushed to the comment section to share their well wishes.
An Instagram user known only as Veloria4, congratulated Iman and remarked that her 'family is growing,' while Caddy Rowland said 'it's so wonderful to be a grandma.'
Duncan's colleagues also congratulated him. Ryan Robbins, who portrays the part of Taka in the series Van Helsing, humorously tweeted 'congrats to the Jones's's from the Robbins's's!' [sic]
The Director of Scott Pilgrim VS The World, Edgar Wright, also congratulated Duncan, while the author of Noodle, Mimi Aye, confirmed that siblings 'play nice' when they aren't busy fighting which each other.
Duncan is most famously known for directing the 2009 film Moon, and Source Code in 2011. His recent projects include the 2016 film Warcraft: The Beginning, and Mute, which was released in February 2018.
Please fill in your e-mail so we can share with you our top stories!