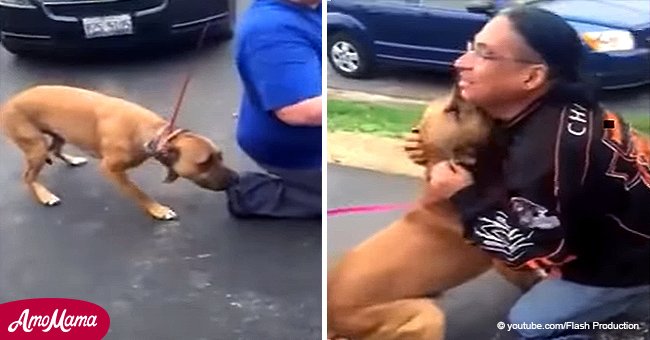 Dog is scared to go to owner he hasn't seen in 2 years, until pet finally recognizes him
A man from Wisconsin had to find a temporary home for his dog when he fell on hard times. He thought he would never see his furry companion again.
In 2014, a man from Columbus, Wisconsin, known only as Jose, faced a hard decision. He had recently divorced from his wife and was living out of his vehicle.
Jose didn't have a job or a steady income, and throughout all of the hardship, his faithful dog Chaos never left his side. But unfortunately, Jose couldn't provide for Chaos.
As reported by The Epoch Times, he wanted what was best for Chaos, and made a temporary arrangement with an acquaintance: They would care for Chaos until Jose found stability again.
Three months later, Jose was ready to care for Choas again, but unfortunately, the people who were looking after the dog didn't want to give him back. Jose was heartbroken.
Two years went by, and Jose was reading through his emails on April 27, 2016, when he saw a notification to renew Chaos' microchip. He was saddened by the memory of his lost dog.
While still staring at the email, his phone rang. It was the Winnebago County Animal Services. One of their workers found a stray dog on her porch, and Jose was listed as the owner, according to the microchip information.
Jose couldn't believe his luck. After more than two years, he was finally going to see his dog again. Winnebago was an hour and a half's drive away, but Jose didn't care.
He was reunited with his beloved Chaos the following day. The beautiful reunion was recorded by a volunteer who worked at the shelter.
At first, Chaos was timid and shared. He cowered behind the shelter volunteer. Chaos approached Jose cautiously, but when he recognized Jose, Chaos jumped into his arms.
Jose took his beloved dog home that same day, and Chaos sat with his head resting on Jose's shoulder for the entire trip back home. When asked if he had advice for other pet owners, Jose didn't hesitate.
'Pay the microchip fee! That fee versus never seeing your animal again is totally worth it!'
Jose, WREX, April 29, 2016.
Please fill in your e-mail so we can share with you our top stories!