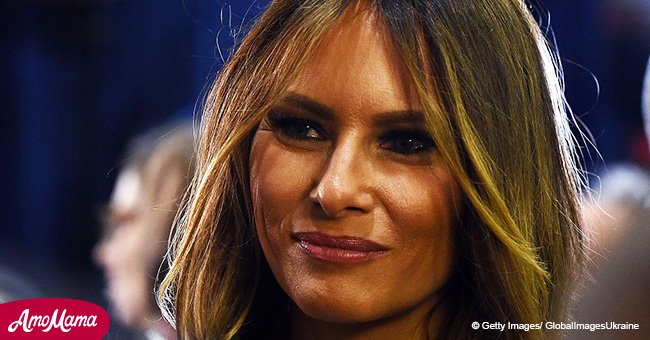 Melania Trump breaks the Internet with her choice of huge hat during state visit with France

Melania Trump regularly draws attention to her outfits, as was the case again during French President Macron's diplomatic visit to the White House.
On April 24, 2018, President Trump and the First Lady of the United States hosted President Emmanuel Macron and his wife Brigitte for an official state dinner.
As reported by Fox News, Melania honored her guests by choosing a white Hervé Pierre hat for the occasion and coupled it with a white Michael Kors jacket and skirt.
Her bold fashion statement provoked people to comment, and netizens rushed to Twitter to compare Melania's hat to the fashion choices of Beyonce, Olive Pope, and even the Catholic Pope.
A Twitter user known only as Mr. Express Divo said that Melania should be charged with plagiarism in everything she does. 'Not [an] original person at all,' he added.
Scott Dworkin, co-founder of the Democratic Coalition dryly remarked that he would rather have Melania's hat for President.
Another user known only as Riot Womenn asked if the hat 'is akin to a moat.' and suggest that Melania probably used it as a 'defense against a Trump kissing attack.'
She included a gif of President Trump trying to kiss Melania on the cheek, but failing miserably, and suggested that 'exaggerated hoop skirts' would also do the trick.
Not everybody made fun of Melania's hat, and her supporters showed up in droves to defend her fashion sense.
S. Gilbreaith said Melania is the 'classiest First lady since Jacqueline Kennedy,' while Mel Parallel said Melania is the epitome of 'elegance and grace.'
Anne Rumsey Gearan noted that the hat was gorgeous. She also commended Brigitte Macron for being able to flawlessly 'two-cheek kiss under and around Melania Trump's enormous flat-brim hat.'
For his first state dinner, Trump broke tradition by not inviting Democrat congress members or members of the media.
Trump is the first President in more than a century who didn't host an official state during his first year in office. When he was elected, he vowed not to hold a state dinner until the US trade deficit improved.
Please fill in your e-mail so we can share with you our top stories!