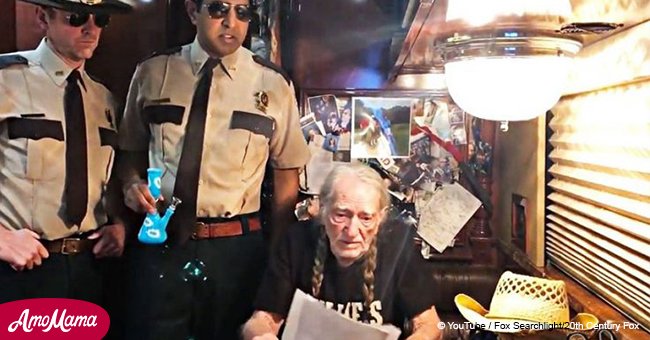 'Super Troopers' hold Willie Nelson's bong hostage
The stars of Super Troopers are threatening to destroy one of Willie Nelson's most prized possessions - his bong.
This is the scene in a promotional video for the film, Super Troopers 2, as reported by Classic Country Music.
The "ransom video" shows the 84-year-old country musician and activist pleading with the audience to go to the theaters and watch his captors' new movie.
The hilarious 32-minute promotional video was taken inside Nelson's own tour bus.
Nelson, known for being vocal about his love for weed, was recently tagged as the only guy to outsmoke Snoop Dogg.
The Super Troopers found it fitting to shoot a video "coercing" the country music icon to plug their movie, a humorous cult flick.
Nelson, who has been advocating for the legalization of marijuana, appeals to the audience that the movie was hoping to reach.
The sequel of Super Troopers arrived after 17 years of crowd-funding campaign. It hit theaters on 4/20, also known as "weed day." This day, of course, resonates with the movie's highest number of supporters.
Super Troopers 2 continues to chronicle the misbehavior and misadventures of the khaki-uniformed, heavily mustachioed officers-of-the law.
Often playing jokes on one another, the uniformed officers are played by the Broken Lizard comedy group.
Super Troopers 2 is being distributed by Fox Searchlight and 20th Century Fox.
The first movie was released in 2001 and directed by Jay Chandrasekahr. Fox Searchlight paid $3.25 million for distribution rights of the film and it grossed $23 million at the box office.
Aside from Broken Lizard, the first movie also starred Chandrasekhar, Paul Soter, Erik Stolhanske, Brian Cox and Marisa Coughlan.
The story is set in the fictional town of Spurbury, Vermont. It is inspired by Broken Lizard's own experience of going on road trips and getting pulled over by police officers.
In an Esquire article, Steve Lemme, a member of the Broken Lizard, admitted that they were often under the influence of drugs while on these road trips.
Please fill in your e-mail so we can share with you our top stories!