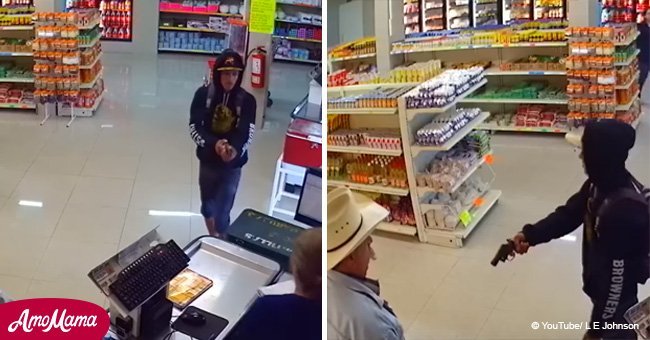 Live footage shows daring moment a shopper disarms a robber
The cowboy was at gunpoint, but he turned the situation around with one brilliant move.
Daily Mail reported on an incredible incident involving a brave and skilled cowboy tackling an armed robbery in a shop in Mexico.
The whole instance was captured on the CCTV camera mounted inside a local convenience store. A mugger entered the store, pulled out his gun and pointed it at one of the store's attendants.
While the attendant shook with fear, the robber turned to his side and fixated the gunpoint on a man with a cowboy hat and a thick biker jacket.
The cowboy remained calm as the robber warned all the customers at the shop to back off.
The footage captured the heroic cowboy taking off his tainted sunglasses in one moment and leaping onto the robber in an attempt to pin him down.
In the physical struggle that ensued, the brave man crushed the robber's hand till he let go of the pistol.
At this point, the mugger began to realize that he would not be able to threaten or fight his way out of the situation. He tried to gather his strength and storm out of the store.
However, the cowboy quickly trapped him in a strong chokehold and pinned him down.
The duel gave two other attendants ample time to join in and take control of the situation. They also carried a gun as a safety measure.
The desperate mugger looked defeated with a scarred face and a tattered shirt. As a last resort, he yields another secret weapon – a sharp kitchen knife.
In a move that looked effortless, the cowboy successfully seized the weapon from the criminal. The strong cowboy restrains the thief with the help of the two store workers.
Towards the end of the footage, another attendant is seen speaking to the police on the phone, reporting the break-in and summoning them for help.
Please fill in your e-mail so we can share with you our top stories!