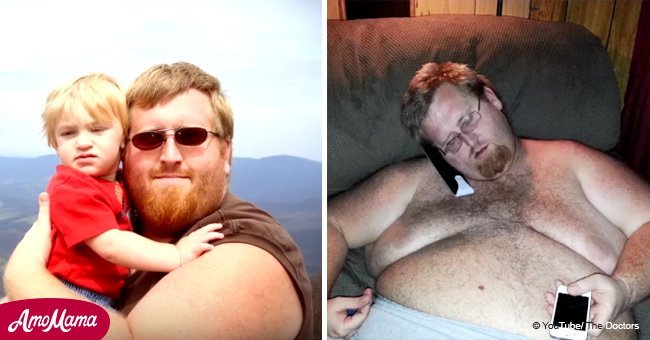 Florida dad who nearly 'ate himself' to death loses 350Ibs for his family
He is a father to an only son. The little boy was the main reason why he pushed himself to lose weight after being hospitalized
Zach Moore from Florida recalled how he almost "ate himself to death" in 2013. At the time, he weighed 500 pounds with a very high BMI of 60. He knew his time wasn't going to be long.
During those moments, he tried his best to make great memories with his family. In fact, he even recorded a "goodbye" video with his eight-year-old son, Zach Jr., so the boy could have something to remember his dad by.
Soon after that year, Moore was admitted to the hospital after he had food poisoning. It was during that moment when he made a decision to change his life for his son and his wife, Amber.
He decided to end his bad habits. He quit smoking, he stopped drinking fizzy beverages, he avoided sugar, and he also indulged himself in weight loss surgery.
In just two years, he lost over 350 pounds and an additional 28 pounds after his excess skin was removed.
Since his transformation, he has had over ten surgeries to remove his excess skin. He also tries to remain active and goes to the gym or walks 10,000 steps a day.
Looking at the video he recorded in 2013, Moore told the Daily Mail, "I almost ate myself to death, but instead I found inner strength and worked very hard to get to where I am today."
At present, Moore is a transformed man. His life has changed for the better. He is able to do more things now, including simple daily chores.
Also, he has been engaging in more activities that he could do together with his son.
"The thought of not being around kicked me into gear. I didn't want my son growing up with a tombstone for a father and it pushed me to keep fighting during the hard moments," said Moore.
Please fill in your e-mail so we can share with you our top stories!