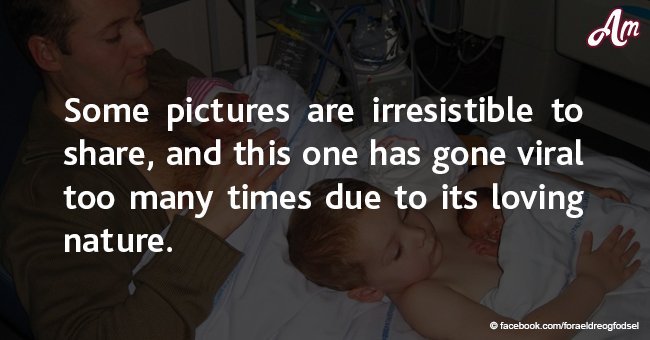 The boy is there for his father who tries to warm his newborn twin brothers
Images that go viral, do so because they touch an emotional chord and people cannot resist the urge to share them.
The photo shows a little boy helping his father warm his two premature twin sisters. The technique called Kangaroo care is used to warm newborns without using an incubator.
It was shared on a number of occasions through the years since it was first posted online.
The technique believes in holding premature babies close to the skin to give them the warmth and the child willingly came forward.
Studies conducted by the National Institute of Health showed that the technique was effective in reducing pain among premature babies.
The little ones born prematurely are extremely sensitive to pain as their brain and nervous systems are not fully developed and this gesture seems to help.
The institute said that the skin-to-skin contact seems to have an analgesic or sedative effect, reducing their pain responses.
In a response to the photo, Uwe Ewald, a Swedish Professor, described how Kangaroo care works. He said that skin-to-skin contact helps the baby breathe better.
It also has a positive effect on the baby as he/she becomes calmer and gains weight faster. 'Research shows that parents bacterial flora, compared with hospital bacteria, reduces the risk of serious infections in these delicate children,' he wrote.
A long-term study of infants who were in the neonatal intensive care unit at an Israeli medical center found that the benefits persisted years later.
Researchers found benefits for the individuals who had skin-to-skin care including netter maternal attachment behavior, reduce maternal anxiety, enhanced child cognitive development, and mother-child reciprocity.
Experts say that the short-term and long-term benefits of the techniques are many, hence the proponents of skin-to-skin care recommend the practice during the hospital stay and even later.
Please fill in your e-mail so we can share with you our top stories!