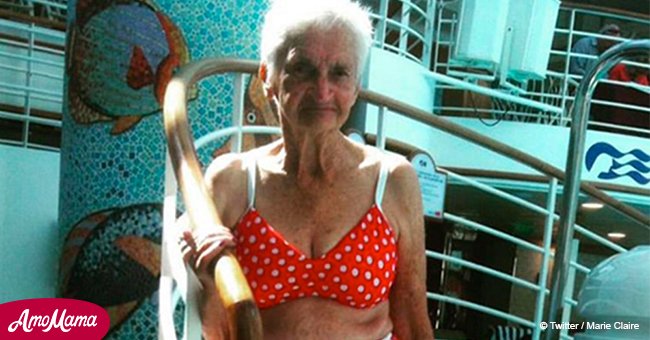 90-year-old woman dons red bikini and her photo inspired women all over the world
She wore a teeny weeny red polka dot bikini and women all over the world applaud her.
Body acceptance and pride in their appearance is essential for self-esteem and this grandmother proved she has a lot of it, and with good reason.
Irene Carney, from Ballina, New South Wales decided to buy a fabulous two-piece swimsuit: A very striking red and white polka dot bikini.
So what is so surprising about that? The surprise, of course, is that Carney is 90 years old and a grandmother.
The 90-year-old took a break from her sedate life in a nursing home to head off on a cruise with her family, to enjoy the sun and spend time with her children and grandchildren.
Carney walked into Lady Watego's, a swimsuit store in her native Australia looking for a bathing suit to wear during the family vacation.
She chose a gorgeous red polka dot Seafolly bikini and the 50's style retro high-waist bottoms and underwire bralette fitted her perfectly.
Carney was photographed on her cruise by her proud family and her photo was posted on Twitter were it went viral. It's never too late for a new career, or a bikini, as Carney has proved, by becoming the world's oldest swimsuit model.
Please fill in your e-mail so we can share with you our top stories!