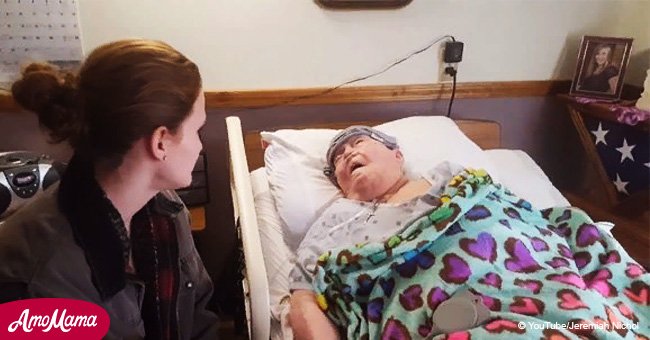 Nurse doesn't know someone is recording her dying grandma
Nurses have always been considered angels of mercy, bringing comfort and consoling the sick
Nurses are not always given the merit they deserve, because although doctors diagnose and mediate healing, it is the nursing profession who is there every moment of the day or night to care for the sick and the dying.
The grandchild of an elderly dying woman, Helen Nichol, who was living at the Life Care facility in Seneca, KS was astounded to discover how far some nurses take their dedication to their patients and their comfort.
One day, Jeremiah Nichol, inadvertently walked in on a nurse doing something astonishing and he took out his phone out and started recording it.
Isabelle, one of Helen's nurses, was by her bedside, even though it was her day off, and she was holding her hand and singing to her.
'The daily compassion of unknown numbers of good health care workers goes unnoticed by many. Thank you for the gifts you share and the love for patients you bestow.'
Helen seemed to be relaxed and calmed by Isabelle's voice. She was singing a beautiful hymn and caressing her hand. A few of days after the video was recorded, Helen passed away.
Her loving family was moved and consoled by the knowledge that she had been comforted and treated with great tenderness in her final days.
The family has expressed their profound respect and thankfulness for Isabelle and her professional colleagues who carry out their difficult work with such loving compassion.
Please fill in your e-mail so we can share with you our top stories!