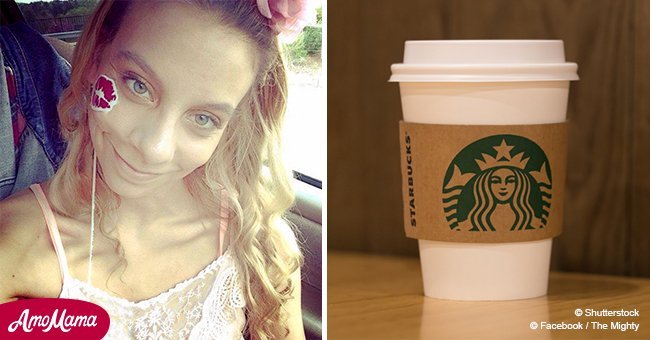 Starbucks barista's simple message saves anorexic sufferer from suicide
One word was all it took to make the young woman feel better.
Random acts of kindness have the power to make someone's day, but what a Starbucks employee did for a customer ended up saving a depressed woman's life.
As reported by Shared, the customer was Bekah Georgy, a teenager suffering from multiple disorders including severe depression, anorexia, and seizures.
While her illness and the rigorous treatments resulted in a lot of dietary restrictions and a feed pipe attached to her nose, one of the few things she could thoroughly still enjoy was coffee.
One of the treatment sessions was particularly difficult, and that day, she decided to walk into a Starbucks to take her mind off of depressing thoughts. She walked into the outlet and ordered an iced coffee.
As per the Starbucks protocol, the barista behind the counter will ask the customer's name while taking the order and write the name on the item being served.
However, in Georgy's case, her name wasn't written on the cup. After she collected her order, she found that the barista had written 'Smile' and drawn a smiley face instead of writing her name.
The message 'Smile' popping up unexpectedly before her turned her day around. The message had brought some positivity to her otherwise terrible day.
Georgy was so touched by the kindness shown by the Starbucks employee, that she shared her feelings in an online post for all her followers and well-wishers to read.
The post was an open letter of gratitude to the barista at the café, and Georgy revealed that the worker's single word of kindness possibly saved her life.
She suspected that the barista would have decided to make the sweet gesture after either noticing her feed tube or that she was could read beyond Georgy's fake smile.
The thankful teenager highlighted that the barista did not have to go out of the way to be nice to her, but did it anyway as an act of care and kindness.
Georgy revealed that not seeing that word scribbled on her coffee cup could have led to a different climax, where she would have hurt herself owing to her negative thoughts.
Please fill in your e-mail so we can share with you our top stories!