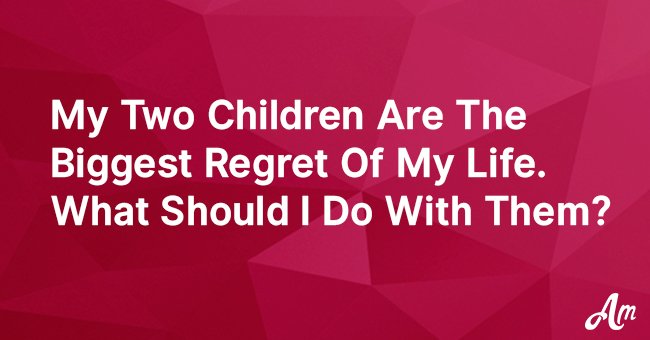 'My two children are the biggest regrets of my life. What should I do with them?'
Even though most women agree that having children is a blessing, Isabella Dutton confessed that having two children was the biggest regret of her life.
As Daily Mail reported, she realized it when Stuart, her oldest son, was only 5 days old. Dutton was next to him seeing him sleeping but she couldn't feel the bond or 'warm rush' of maternal affection that everyone had talked about.
Dutton welcomed Stuart to the world when she was 22 years old. Apart from rejecting the idea of becoming a mother, she felt like Stuart had changed her married life for the worse as all the attention was focused on the baby.
There was a point in which she asked herself if Stuart was really hers. If anyone would have offered to adopt him, she would have given him away without hesitation.
Despite the fact that she felt that a childless life would have been happier and more 'fulfilled,' Dutton did her best to take care of Stuart as she wished no harm to him. Two years later, she gave birth to her daughter, Jo.
Dutton pointed out that she had Jo because having only one child was selfish. She felt the same indifference to her new baby, but knew that she had to provide the best possible care, just as she had done with Stuart.
One of the aspects that she loved the most about her life before having children was having time for her own, to reflect, read, and enjoy her solitude, something that was immediately taken away when the children were born.
Dutton always told her husband, Tony, the way she felt about the little ones. She admitted that she chose to have children because she didn't want to deny his chance to be a father.
Tony did his job as a father flawlessly as he was the one who played and cared for the children. Nowadays, the couple is still married and living together.
Stuart is married and has two children of his own. Jo, on the other hand, is bedridden as a result of multiple sclerosis and relies on her parents to take care of her.
While Dutton would give anything to help her daughter be healthy, she felt that all she has done for her was what made her regret such a paradox.
Please fill in your e-mail so we can share with you our top stories!