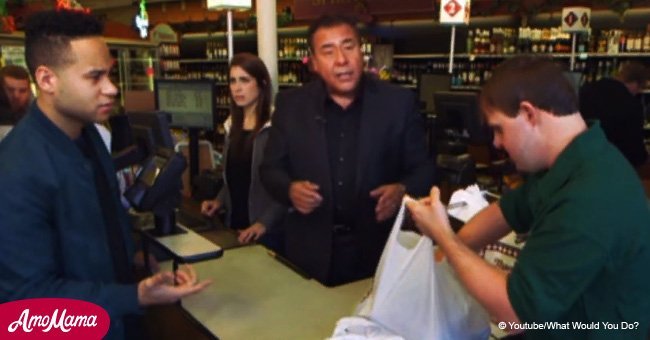 Shoppers bully employee with special needs until one customer stands up for him
The woman in red stood up for the young man who was being bullied because he was special.
What Would You Do? previously released an episode that had a theme "pure."
The show, being hosted by John Quinones, set up cameras throughout the location to perfectly capture the whole incident.
That particular set-up had two actors, one woman pretending to be a customer and a man pretending to be a bagger who happens to have Down syndrome.
As explained by American Web Media, the woman was tasked to bully the young man with special needs.
As the scene went down, people around the two actors began to notice the commotion.
A woman in red couldn't take the bullying happening in front of her eyes and decided to step in. She quickly followed her instincts and stopped the verbal abuse.
She told the woman to stop bullying the young bagger just because he is special.
The woman completely had no clue that the bagger and the customers were both actors.
After giving the bully a talking to, Quinones came out from the back of the store and interrupted the trio.
He praised the woman in red for her courage and initiative.
It's not always that a random person would get out of her way to stop strangers from doing something wrong.
When asked why she stood up to the bully, the woman responded, "I've seen people be victimized and picked on. There's always going to be people who bully other people, but I don't like it. So I have to speak out against it."
What Would You Do? aims to test the citizens of America and see what an average person would do if he or she ever come across a situation like such.
Please fill in your e-mail so we can share with you our top stories!