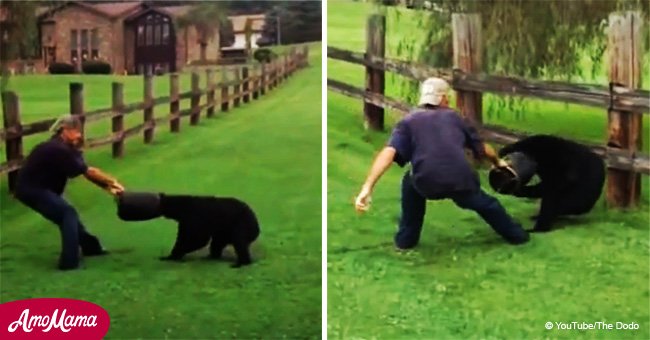 Video shows daring rescue effort of a bear with a bucket stuck on his head

Humans mostly avoid bears for obvious reasons. But a group of men sprang to action when they saw a bear needing help.
In a video shared by The Epoch Times, a bear can be seen struggling with a pot stuck on its head.
The pot would not come off, sending the bear into a panic.
The video shows the bear running around with the pot stuck on its head. A man jumps in to try to get the pot off the animal's head.
He tries his best to yank the pot off to no avail. The bear runs off into a bush and heads into a road.
The video cut into the woods where more men came to help remove the pot off the bear's head.
Two men held the bear down in the mud while another two men tries to remove the pot using a saw and pliers.
All men get covered with mud while helping the bear, who run off immediately after getting freed from the pot.
The video shows an unusual interaction between men and bear. The animal has a reputation of becoming violent around humans.
At least 25 fatal black bear attacks have occured in North America during the last 20 years, as reported by Wide Open Spaces.
The youngest person killed was a five-month child, while the oldest was a 93-year-old woman. Of the 25 persons killed in a black bear attack, 14 were females while 11 were males.
Most of the fatal attacks occured in British Columbia, Canada; Quebec, Canada; and Alaska.
At least two persons were killed in a black bear attack in 2017.
Erin Johnson, a contract employee for Pogo Mine, was killed after running into a black bear while collecting soil samples in Alaska on June 19, 2017. Mine personnel shot and killed the bear.
A day earlier, Patrick Cooper was chased and mauled by a bear while running in the juniors' division of a popular trail running race.
Please fill in your e-mail so we can share with you our top stories!