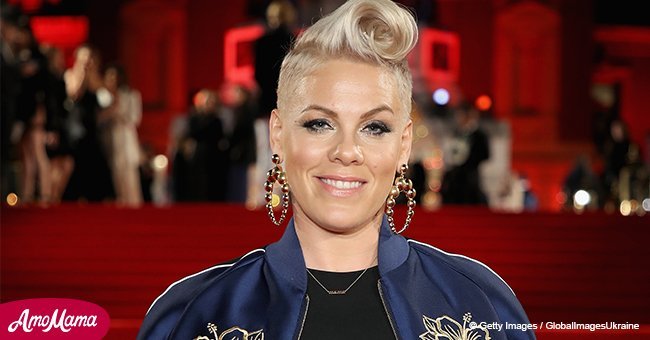 Doting mother Pink shares cute photo of herself reading to son Jameson and daughter Willow
At AmoMama, we love Pink for being so relatable! The artist, whose work is celebrated all over the world, takes time to be the best momma she can be and then posts some of the sweetest moments with her loved ones on Instagram. What's not to love?
That Pink loves her family is no doubt. The Pretty Please singer talks about her little munchkins whenever she gets the chance and she also praises her husband, Carey Hart, for being the best that he is. Even in the middle of a tour such as she is at the moment, the mother of two takes the time to post cite family photos such as the one that recently got over 500,000 likes to remind is all that family is everything.
Pink has demonstrated throughout that she is not your average parent. The mother of two told People that she believes in "fairness and justice. And I believe that a boy can do anything. So I have boys that flip dirt bikes and I have boy friends that wear dresses. It's all okay to me. It's whatever floats your boat. So that's the kind of house that we live in."
To this end, she raises her kids in what most parents would call an unconventional way. She talks to her daughter, Willow about being whomever she wants to be regardless of what the world dictates. She further told the publication that she teaches Willow the rules early on so that she knows "how and when to break them."
When asked about the kind of parent she is, she said she is a worrier. And an attached parent.
"I have so many worries and fears as a parent. I'm such a worrier. They're going to be fine. They chose this family. They know what they're doing. But the world, I don't know if the world's going to be fine, and so I pray a lot. I cry a lot. I talk to them a lot. I hope a lot. I curse a lot."
Pink is right. They will be fine.
Please fill in your e-mail so we can share with you our top stories!