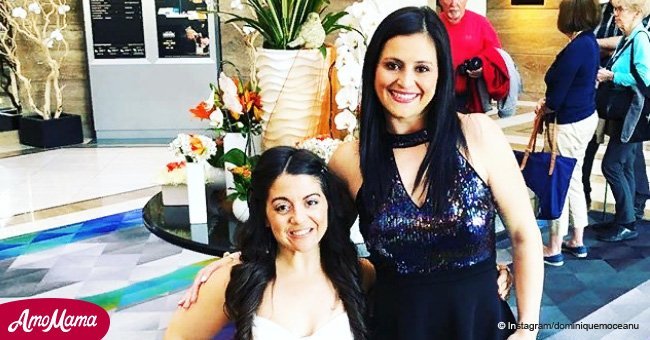 Adopted gymnast without legs made incredible discovery about her biological family
The gymnast felt in her heart that she wanted to get to know her biological family and soon enough, she was surprised to know who her sister was.
Jennifer Bricker was raised in a loving home in Illinois. Her adoptive parents treated her like she was their own. Although she was born with no legs because of a birth defect, it didn't stop her to become an inspiration to many.
Bricker, who lives in Los Angeles and works as a professional aerialist and acrobat, grew up happily and had no further medical complications.
She was only three months old when she was adopted by Sharon and Gerald Bricker. The couple already had three older sons.
"My parents told me, from as early as I can remember, that I was adopted, that my ethnicity was Romanian. They gave me self-esteem, encouragement, love, support, and confidence. It had a huge impact on who I am today," said Bricker.
According to the Daily Mail, Bricker won as the power tumbling champion of Illinois when she was only 11 years old.
She claims that she was already a gymnast when she came out of her real mother's womb. Bricker also mentioned that as a child, she idolized Dominique Moceanu, who is the youngest member of the US gymnastics team who won an Olympic Gold.
"I always had such a connection to her, immediately. I saw myself in her, she was small and I was small. I knew she was Romanian, I was Romanian." she said.
Bricker was 16 years old when she found out an amazing discovery. She became interested in getting to know her real family and did some research.
She found out that the girl she idolized as a kid was actually her biological sister. At the time, Bricker thought of how it made so much sense that she had felt a special connection to Moceanu.
Still, it took Bricker four years to gather evidence of her true parentage before she was able to contact Moceanu.
She had sent the Olympic gold medalist a letter containing all the proof needed. They made phone calls before they actually got to meet in person.
"I had a sister and I never even knew it. It was the Moceanu gene for sure. The features, the tones in her voice, her handwriting, the way we laugh and chuckle. It's mind-blowing," said Moceanu.
Bricker is the middle child. She and Moceanu have a younger sister named Christina, who Bricker said looked so much like her. Bricker was supposedly put up for adoption because her father feared that it would be expensive to raise a child with disabilities.
When Moceanu found out about the truth, she was enraged. By that moment, their father had already passed and Bricker only got to meet her biological mother.
Please fill in your e-mail so we can share with you our top stories!