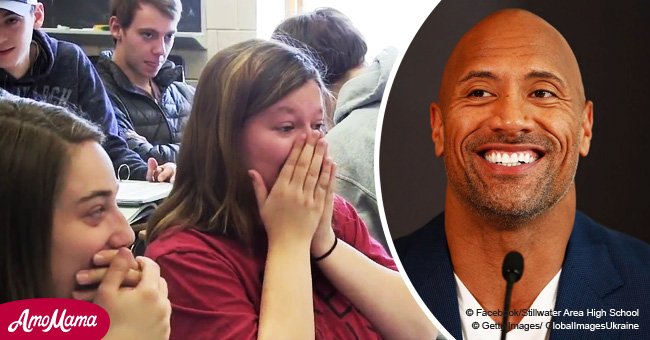 Dwayne 'The Rock' Johnson surprises teen girl at school social with intercom message
Katie Kelzenberg didn't expect the response she got when she asked Dwayne 'The Rock' Johnson to prom.
As reported by Liftable, Johnson recently sent a special message for the 18-year-old from Stillwater Area High School, Minnesota, which played over her school's intercom system.
Kelzenberg took to her Twitter account on April 15, 2018, to post a video directed at Johnson. She became a fan of the movie star after watching his films about five years ago.
The teenage girl knew that Johnson, who has over twelve million Twitter followers, apparently receives more than one request like her's every day. However, that didn't stop her from asking him to prom
In the video, Kelzenberg dressed like the Jumanji actor in a black T-shirt, jeans and fanny pack.
"Will you rock it with me at prom?" she said in the video, which has already been retweeted over 300 times and has received more than 3,000 likes.
Kelzenberg, who was in her AP statistics class at the time, didn't expect Johnson to respond in a recorded announcement broadcast throughout the Stillwater Area High School.
"I'm going to start this Friday morning announcement off with a little bit of fun and a little bit of excitement," the actor said. "You're probably thinking 'What? What is The Rock doing on our intercom system?' Well, I'm sending a message to a very special young lady, and her name is Miss Katie Kelzenberg."
Unfortunately, Johnson couldn't attend the prom because he would be shooting the movie Jungle Cruise in Hawaii.
But he said that he had rented out the Marcus Oakdale Cinema for Kelzenberg and all of her favorite friends and closest family members to watch Rampage, his latest film.
Kelzenberg's priceless reaction was recorded on videotape and shared on the school's Facebook page.
Please fill in your e-mail so we can share with you our top stories!