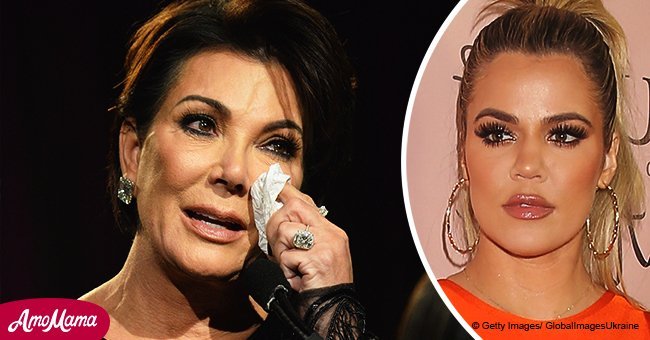 Kris Jenner becomes tearful as she reveals how Khloe is coping with Tristan's alleged infidelity
Kris Jenner is a very hands-on mother who is involved in all of her children's affairs. That is why when news broke out of Tristan Thompson cheating on Khloe Kardashian came to light, Kris was one of those deeply hurt.
And Kris Jenner did get emotional about the whole situation when she spoke about how her youngest Kardashian daughter has been coping with motherhood despite finding out about her boyfriend's infidelity just five days before giving birth.
On Kris' latest interview with the Ellen DeGeneres show last Friday, she confided that Tristan's infidelity was 'unexpected', which led the mother to hold back her tears.
"Khloe is amazing. I'm so proud of that kid. I get choke up because she's such a good mom and honestly I get so emotional."
However, Jenner did reassure Ellen that her whole family 'sprung into action' to help Khloe with the support she needed after the entire scandal blew up.
The 'Keeping Up With The Kardashians' star also shared how her 33-year-old daughter is finding nursing very 'tricky', which is normal for first-time mothers.
"She's so excited about motherhood and trying to get the nursing thing down, which is tricky. She's trying, she's really trying. She's such a good mom. I was in Cleveland last week... and she's just concentrating on being a mom, on her baby."
Since giving birth and hearing the news of the cheating scandal, Khloe has remained mum. She has yet to share a statement or photos of her little girl.
Baby True Thompson is the ninth grandkid of Kris, who is a mother of six herself. She has four children, Kourtney, Kim, Khloe, and Rob from late ex-husband Robert Kardashian, and two daughters, Kylie and Kendall with ex-husband Caitlyn Jenner.
Out of all her children, only Kendall, 22, has not given birth nor has started a family.
Kourtney, 39, has three children with her ex-boyfriend Scott Disick, Kim, 37, has three children with husband Kanye West, Khloe has one daughter with Tristan Thompson, Rob, 31, has a daughter with ex-fiance Blac Chyna, and Kylie, 20, gave birth to a daughter named Stormi Webster whom she shares with boyfriend Travis Scott.
Please fill in your e-mail so we can share with you our top stories!