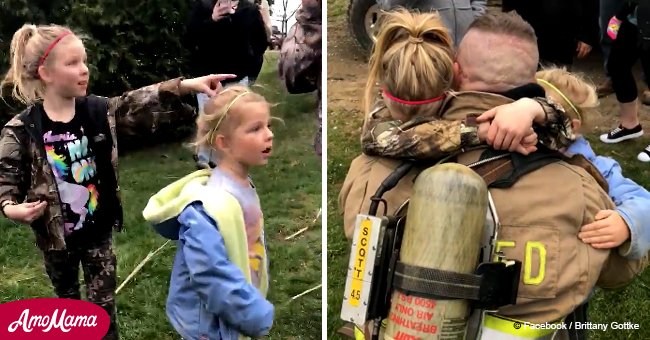 National Guardsman father surprised family with unexpected homecoming
These sisters could not believe who was under the firefighters mask, and couldn't let go of him when they realized.
Sergeant First Class Terry Gottke, a National Guardsman, had been stationed in Afghanistan for 364 days already, and his daughters, 7-year-old Tawny and 5-year-old Brea, missed him terribly.
As reported by NTDTV, their mother, Brittany Gottke, kept promising the girls a special present for Easter, with no hints as to what it would actually be
Over Easter, the girls were standing outside the front of their house with Brittany when a firetruck came by. Both girls aspire to be firefighters one day, so they were in awe as firefighters poured from the vehicle.
As they did, Brittany turned to her eldest daughter and said: "Hey Tawny? You know how I said I was going to give you your Easter presents? You see who I brought you!"
The firefighters didn't seem in any rush to put out a fire, however, and approached the girls instead. He knelt down in front of them, and pulled off his mask.
When the girls realized Terry was standing there in the flesh in front of them, they both launched themselves at him in a giant embrace.
The biggest part of the surprise was when he then told them that he would not have to return to Afghanistan again.
While Tawny and Brea had been in the dark about their father's return, the local community of Wayne had known, and had set up a digital sign in honor of his service and return that read "Terry Gottke Wayne 1643, welcome home."
But it was Terry's wife and daughters who were most excited about his return, and Brittany admitted that the past year had been a tough one for them all to get through.
She also explained the reason behind Terry's surprise being planned around a firefighter, saying that the girls both hope to be firefighters, and both she and Terry are members of the Wayne township fire department.
Please fill in your e-mail so we can share with you our top stories!