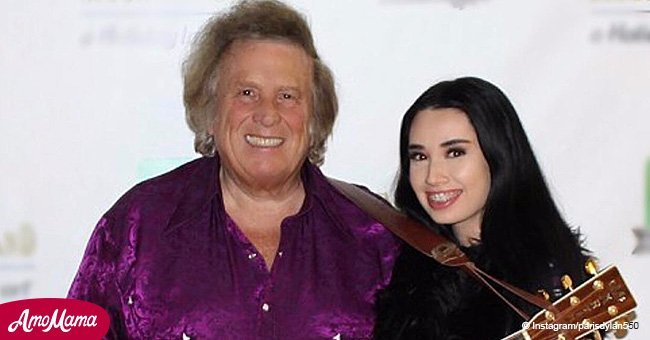 72-year-old country star's young girlfriend exposes her cleavage in eye-catching lingerie
The singer-songwriter's girlfriend isn't one to be ashamed of showing off her physical assets, and she proved it yet again.
Paris Dylan, Don McLean's much younger girlfriend, posted some sexy selfies to Instagram, showing off her incredible bikini body and ample cleavage.
As reported by Daily Mail, the 24-year-old beauty slipped into a mesh bralette - which only just managed to cover her breasts - for the photo.
In the image, Dylan is seen holding her long glossy hair back off her face as she showed off her gorgeous taut stomach with a pout
Dylan and McLean have reportedly been in a relationship for a year. They sparked engagement rumors after the lingerie model posed with a large sparkler, but neither one has confirmed or denied the rumors.
Despite the 48-year-age gap between them, the couple has continued to share their love with each other. Dylan once revealed that she is a superfan of the American Pie singer.
"I have to watch my Don McLean videos at least three times a day," she reportedly said, according to Daily Mail.
McLean initially hired Paris to manage his social media accounts. He released his latest album, Botanical Gardens, last month. His girlfriend will join him on his UK tour starting on April 29.
Dylan is no stranger to life in the public eye and has previously posed for Maxim and Playboy.
The singer was first married to Carol Sauvion in 1969 but the couple divorced in 1972.
In 1987, McLean tied the knot with Patrisha McLean. It was a far longer marriage than his first, but they divorced in June 2016. The former couple has two children, Jackie and Wyatt.
McLean has also had his fair share of scandals during his career, as he was arrested in Camden for a misdemeanor domestic violence charge on January 18, 2016.
He pleaded guilty to charges of misdemeanor domestic violence assault, domestic violence criminal threatening, criminal mischief and criminal restraint against Patrisha on July 21, 2016.
The charges against him were dismissed on July 21, 2017, after he met the terms of a plea agreement.
Please fill in your e-mail so we can share with you our top stories!