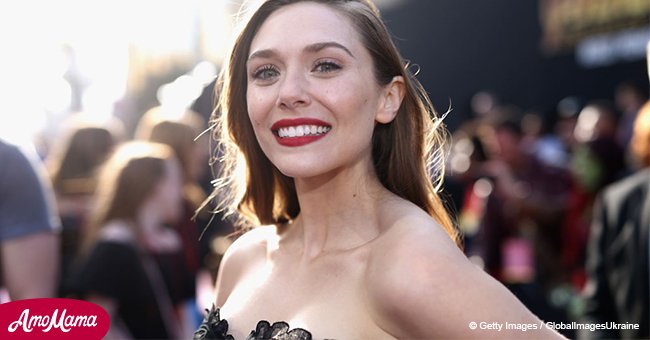 Elizabeth Olsen raises the glamour quotient, posing in translucently lacy off-the-shoulder top
When people talk about superheroes, iconic characters like Iron Man, Captain America, and Thor come to mind. However, the Marvel Cinematic Universe would not be complete without its gorgeous woman superheroes as well.
And during the premiere of their latest movie 'Avengers: Infinity War', Elizabeth Olsen, Zoe Saldana, and Brie Larson took the stage by storm and stole the show.
Attending the star-studded event at the Los Angeles El Capitan Theatre, the beautiful women of the Marvel Cinematic Universe posed in their stunning outfits.
The first of the trio, Elizabeth Olsen, let her brunette hair fall freely behind her back, as she donned a sheer lace corset which she wrapped up in black high-waisted trousers and a wrap around silk train.
The 29-year-old who plays Scarlet Witch or Wanda Maximoff in the movies, is the younger sister of twins Mary-Kate and Ashley Olsen. She topped her all-black ensemble with a pair of ankle-star stilettos.
Meanwhile, beauty Zoe Seldana, who plays a very important role in 'Avengers: Infinity War' as Gamora, stunned on-lookers of the red carpet as she strut her stuff in a very low v-neck white top that showed off her midriff.
Her revealing top, which she wore braless, was accented with matching black high-waisted trousers with a large bow in its center which acted like a belt. To make sure she showed off her model stature, she wore sky-high black heels.
Last but definitely not the least, is Brie Larson, who people are looking forward to seeing as 'Captain Marvel'.
The Oscar award winning actress chose to go for a more classic look, donning a very elegant floor-length white gown.
The dress' neckline fell flat on her chest, low enough to bare a hint of cleavage as she slung her hair on one shoulder.
While the elegant dress seemed to be very wholesome, it featured a very low cut at the back, which extended all the way to Brie's hip.
Beside Brie during the event was Phantom Planet frontman Alex Greenwald, whom she is currently engaged to since 2016.
According to Daily Mail, Alex and Brie started dating in 2013, and are yet to finalize their wedding.
Larson is officially set to portray 'Captain Marvel', and fans were given a quick sneakpeek in 'Avengers: Infinity War'.
Please fill in your e-mail so we can share with you our top stories!