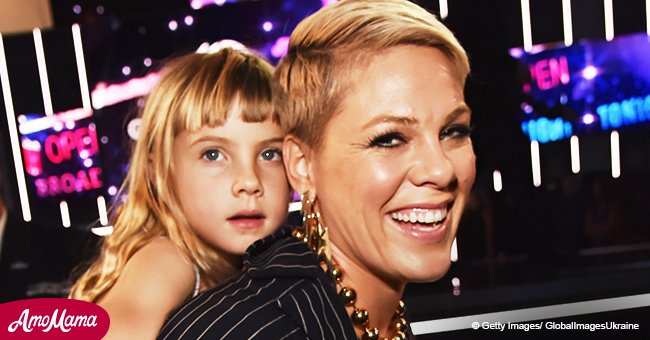 Pink shares an adorable photo of her two kids playing bowling with father
Pink sure knows what the definition of cuteness is when she shared an adorable photo of her children bowling with her husband.
The singer posted the snap on Instagram in honor of her husband for "Husband Appreciation Day." The photo showed 6-year-old Willow and 1-year-old Jameson looking at the rolling ball while Pink's husband, Carey Hart, is kneeling beside their son.
The mother-of-two wrote in the caption:
"It's #husbandappreciationday so I'm gonna do this one publicly. This friggin guy right here BEST DAD. BEST FRIEND. BEST MAN. He's the glue that holds us all down and together. He's the best friend a person could ever want. He's the dreamiest, toughest, most creative, forgiving, flexible, supportive, loving human and I love him with all my heart. @hartluck"
Fans loved how sweet and heartfelt the message was and more so, with how cute and beautiful their family is. Some of them said in their comments:
"He is a lucky man to have you!"
"I freaking love that you just said! Love is amazing,I wish you and Carrey will always be together!Your family is an example for others"
"Best kind of man right there! You have a beautiful family!"
Pink met Carey, a professional motocross racer, at the 2001 X Games in Philadelphia. She proposed to him in June 2005 and they tied the knot on January 7, 2006, in Costa Rica. They welcomed their first child in 2010 and in 2016, Pink gave birth to their second child.
The Grammy-winning pop star and her kids recently graced the cover of People's Beautiful issue. She talked about parenting and told People:
"The thing about parenting is you never know if anything you're doing is working. That's been the most humbling thing for me. In my head, I sound amazing and then I turn around and her eyes are completely glazed over. I have no idea. We'll see."
Please fill in your e-mail so we can share with you our top stories!