Bindi Irwin, 19, is seen with her mom as she rocks a mini floral dress. She looks so grown up
Bindi Irwin is truly her father's daughter as she honored him last week when "The Crocodile Hunter" received a star on the Hollywood Walk Of Fame.
She gave an emotional speech about her late father on Saturday at the Steve Irwin Gala Dinner in Beverly Hills. The 19-year-old whom fans used to see as this adorable girl is growing up beautifully and with a huge heart. Daily Mail has the details on this news.
Bindi was all smiles as she posed alongside her family and her boyfriend, Chandler Powell, at the SLS Hotel. She looked gorgeous in a chic floral dress that had an A-line skirt and a scoop neckline.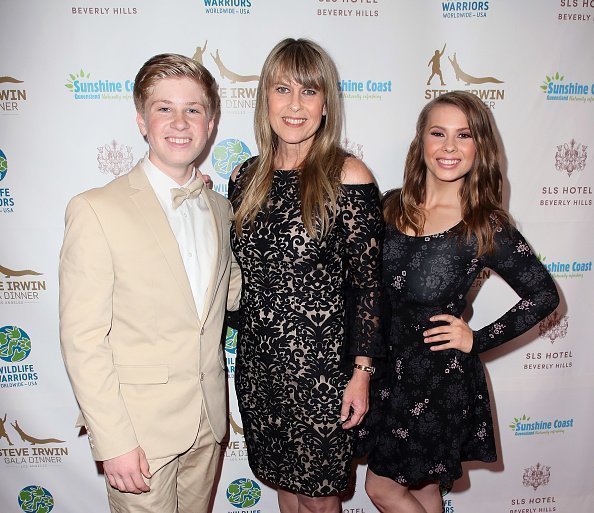 Her look was refreshing as most of the people are used to seeing her in her usual Australia Zoo uniform. The conservationist's dark locks were styled in glossy waves and he eyes were framed with smoky shadow. She completed the look with a dab of taupe lipstick.
After strutting the red carpet with her mom Terri and brother Robert, she later cozied up to her longtime boyfriend. Chandler also smartened up for the occasion as he donned a black suit with a quirky twist by putting on a white satin bowtie.
Prior to the gala, the family witnessed Steve being honored with a star on the Hollywood Walk Of Fame. The late TV star died in 2006 when he was unfortunately struck by a stingray barb to the heart.
The ceremony, which was held in Hollywood Boulevard, was attended by several well-known guests such as TV personality Rove McManus, Beau Bridges, and celebrity chef Curtis Stone.
The Irwins rejoiced at the tribute and were seen happily posing for photos at the event but it was also quite a tearful event. Bindi shed tears when she talked about her father and told them how Steve would have loved to be at the ceremony.
Steve's star is the 2635th star to be placed on the famous Hollywood Walk Of Fame, which is located near the famed intersection of Hollywood Boulevard and Vine St.