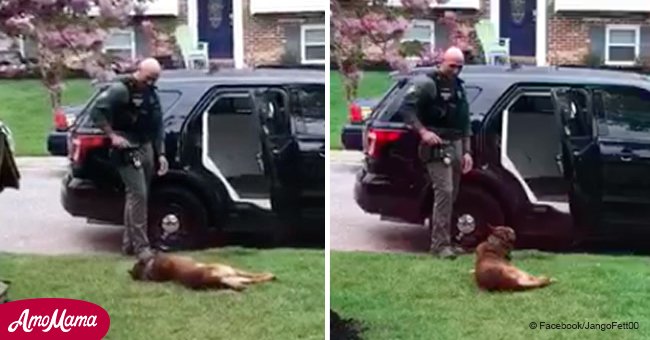 K9 officer refuses to go to work before receiving special treat from owner
Much like his human counterparts on a beautiful spring day, this pup had no desire to go to work while the sun was shining.
Jango Fett is a K-9 officer at the Anne Arundel County Sheriff's Office in Maryland. But as spring sprung at the end of April, the Belgian Malinois decided he wanted to take a day off.
In a video shared to Facebook by his handler and partner Deputy Ryan Costin, Jango can be seen holding a peaceful protest on the deputy's front lawn, refusing to climb into the car
Usually, Jango will do anything for his partner, including protecting and saving his life. But this time around it was a no-go as Costin pleaded with the playful pup to get into the vehicle.
Jango has a high drive and a strong work ethic, which makes him a perfect fit for the police force when it comes to detecting narcotics.
But with the cherry trees in full bloom, the sun shining, and the birds singing, Jango could think of better things to do than going off to work.
Costin's wife, Cassie, recorded the hilarious episode from inside their house, as Jango spent almost 2 minutes refusing point blank to follow his partner's orders to get into the car.
Instead, Jango flopped down onto the grass, occasionally flicking his tail as Costin stood over him, trying to convince him to get into his patrol car.
At one point it seemed as though he might comply, half sitting upright and staring into the vehicle before averting his eyes again. Thinking better of it, he decided to flop back down again, much to Costin's frustration and his wife's amusement.
While normally such an act of civil disobedience is punished, not rewarded, but Costin sees no other way to coax his partner into going to work. Kneeling down, Costin pats Jango on his side, and gives him a rather well-received belly scratch.
It seems enough to convince the reluctant pup, who quickly jumps up and into the backseat of the patrol car.
"So all I need to get ready for work is a belly rub. Got it, check," Cassie calls as Costin closes the door behind his partner.
Please fill in your e-mail so we can share with you our top stories!