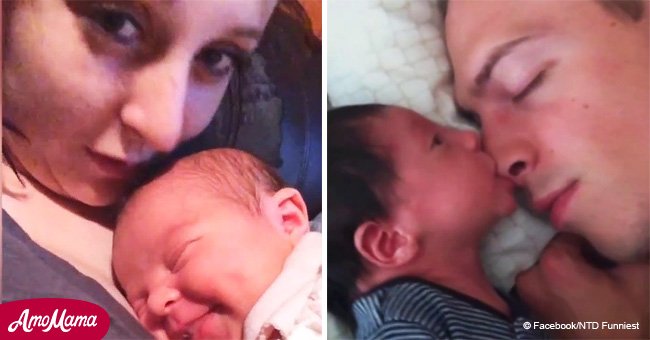 Video compilation shows how newborns react to their parents
A heartwarming video shows adorable infants at their cutest moments.
Shared by NTD Funniest, the newborns are caught on camera reacting to their parents or simply doing funny actions with one another.
The video starts with a sleepy baby eager to receive kisses on the lips. It is followed with a baby smiling while peacefully resting on the mother's chest.
Another one shows a newborn crying and then stopping after getting a tender caress. Yet another shows a seemingly sleeping baby smiling sweetly after getting a kiss on the forehead.
An adorable infant in another footage tries to crawl under his or her father's arm
One of the funniest videos is that of a baby sucking on his father's nose, mistaking it for a pacifier.
More videos show babies smiling at or kissing their parents.
Posted to Facebook on April 13, 2018, the video compilation has gone viral, with more than 231,000 people sharing it with their friends and family.
It has also been liked more than 200,000 times and elicited 23,000 comments.
Facebook user Don Gordon wrote: 'God is Great. He gives us the joy of Loving his little Angels, caring for them and raising them as Christian men and women. What greater task in life would make us this happy or fill our hearts with so much joy.'
Another woman, a grandparent, shared a reflection that resonated with many.
'Babies are so precious. I tell my children, love your babies and take notice of all they do. Soon they'll be grown and gone. I think that's why we love being grandparents because we observe more with our grandchildren than we did with our children because we were so busy.'
She added that although she took time for her children and their accomplishments, it's still different with grandchildren.
Please fill in your e-mail so we can share with you our top stories!