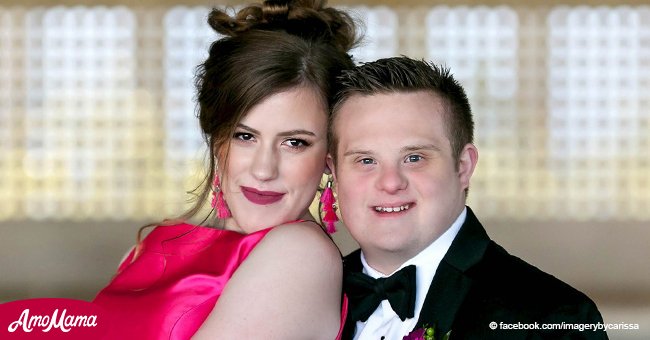 Boy with Down syndrome saves the prom night for best friend with rare gene mutation

She began to be isolated from her peers who did not understand why she was not maturing in the same way as them.
Every day, people with disabilities surprise the world with their capacity to love. Just ask the teenagers Ciera and Connor. These two best friends have a friendship that has touched the hearts of thousands
As reported by Inspire More, Connor was born with Down syndrome and Ciera developed a unique genetic mutation that led to serious cognitive problems. But instead of seeing their conditions as an obstacle in life, these two face each day with a smile.
However, the trip has not always been easy. While in the third grade, Ciera began to have severe seizures. Those episodes eventually led to brain damage that kept his brain in a permanent state of a third-grade cognition.
As the months and years passed, the vibrant girl began to be isolated from her peers who did not understand why she was not developing in the same way as they did. So, she started at a special needs school where she met her best friend Connor.
The two quickly became very close. They were FaceTiming all the time, eating lunch together, and meeting for ice cream. Connor was super-protective of Ciera, constantly complimenting her and making sure everyone was kind to her.
In a blog post on Love What Matters, Ciara'a mom says Connor tells her daughter daily how much she means to him with words of affirmation such as "Ciera you are beautiful," "Ciera, I love you so much," and "Ciera you sing beautifully."
Unfortunately, Ciera could not attend her prom because she needed an urgent scoliosis surgery. So, next year, her parents knew they had to make this happen. And it's no surprise she picked Connor as her date.
Always the gentleman, Connor not only opened her car door but also said he'd take Ciera wherever she wanted for dinner. She chose her favorite restaurant, Chick-Fil-A. Then finally they made their way to the dance.
This year's prom was a big deal for the pair, rocking a beautiful pink dress and a pair of Converse, Ciera literally stole the night. And there is no better way to remember the magic than with a wonderful photoshoot. Those smiles really are worth a thousand words.
Please fill in your e-mail so we can share with you our top stories!