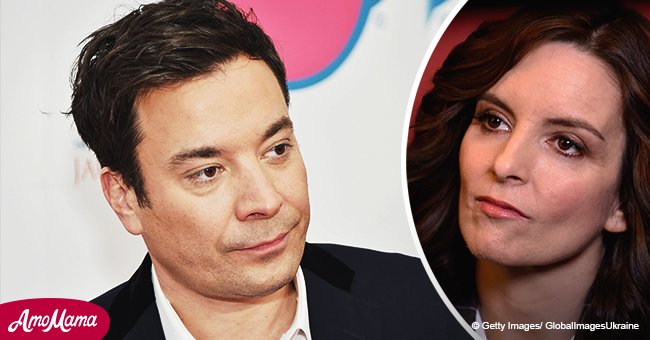 Jimmy Fallon gets emotional and tears up as he delivers touching speech to Tina Fey
Tina Fey was supposed to surprise her fans but ended getting the biggest surprise when Jimmy Fallon teared up and gave a heartfelt speech for her friend.
When Tina appeared on The Tonight Show Starring Jimmy Fallon, she promoted the Mean Girls Broadway show. They set up a surprise for some of her biggest fans right at the theater where Mean Girls was debuting. Inquisitr has all the details.
The fans were asked to stand in front of the Broadway poster and talk to the poster as though they were speaking to Tina herself. Several women did just that, most of them thanking the 30 Rock star for being an inspiration to both men and women, and for being a trailblazer for female comedians.
While the fans were speaking or just before they finish talking, Tina appeared out from behind a curtain and surprised each woman. Most of them were in shock and shed tears as they gave hugs. Each time, Jimmy walked out with Tina.
After the video of the surprise was shown to the Tonight Show audience, Jimmy told Tina that there was someone else who wanted to thank her. He stood up from his desk and went to where the Mean Girls poster was. He was unable to speak for a few minutes while he choked up.
As he recovered from his emotions, he said:
"I know firsthand you worked so hard and found a voice and found your way and you made your own dreams come true, and most importantly, even now you're making other people feel like they can do the same thing and change the world."
Jimmy also told his former Saturday Night Live co-star that he hoped her daughters, Winnie and Frances, would grow up to be "fearless and confident in their strengths" just like their mother.
Tina and Jimmy worked together on Saturday Night Live for four years. The duo hosted the Weekend Update segment from 2000 to 2004.
Please fill in your e-mail so we can share with you our top stories!