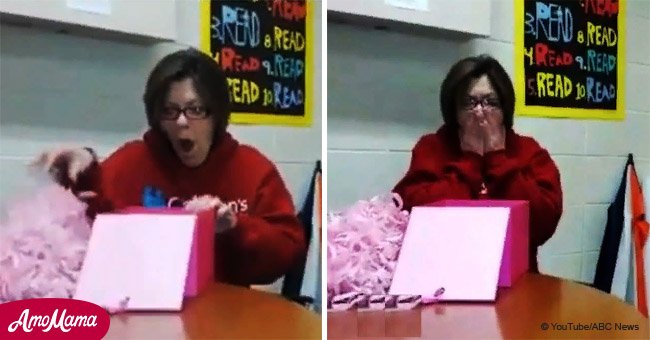 Teacher brings grandma and student to tears with a lifesaving gift
Not content to let one of her favorite students deteriorate any further, the teacher decided she wanted to do something for the little girl.
Oakfield Elementary School teacher Jodi Schmidt had discovered that Natasha Fuller, a student in her class, was suffering from prune belly syndrome, and urgently needed a kidney transplant as she had gone into renal failure.
In an amazing video shared to YouTube, the teacher shared with Fuller and her grandmother, Chris Burleton, what she was going to do for Fuller.
The little girl had always been a bright spot in Schmidt's day, always walking around with a sweet smile on her face and a sunny disposition, despite her medical condition.
But in reality, Fuller was facing dialysis three times a week, and had just learned that her kidneys were failing.
On top of that, she was living far away from her twin sister, Brookelyn, who lived with their parents in Oklahoma while Natasha stayed with her grandparents to receive specialized care at Children's Hospital of Wisconsin.
Unfortunately, because Fuller often came down with infections, she kept being moved further down the transplant list.
When Schmidt learned of her student's worsening condition, she knew that she had to do anything she could to save her. She consulted her husband and family, and told them she wanted to be tested to see if she was a match to Fuller.
When she discovered that she was, she called Burleton and Fuller in to the school to tell them the wonderful news.
Burleton had thought she was being called into the school because Fuller had been misbehaving, and looked confused when Schmidt slid a pink gift box over the table towards her.
The teacher told Burleton that she had wanted to do something for them, especially since they were working so hard to ensure Fuller was still receiving her education despite her condition.
When the bewildered grandmother opened the box, she couldn't believe what was inside. Schmidt had written on a piece of paper "I'm a match."
Understanding immediately what it meant, she couldn't control her emotions as she started to repeatedly thank Schmidt for this unexpected gift.
Things got even more emotional when Fuller was called into the room and handed the same box. As soon as they explained what the note meant, she couldn't help but hug her wonderful teacher.
Please fill in your e-mail so we can share with you our top stories!